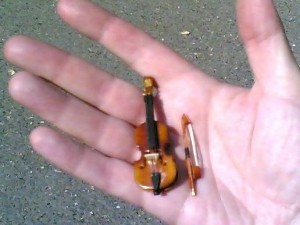 Conservative media watchdog site Newsbusters called out the Washington Post yesterday for "Assaulting" Virginia Governor Bob McDonnell with "Seven Hit Pieces in One Day," when all he did was declare a celebration of an imaginary, slavery-free Confederacy.

Seven in one day? The Washington Post should be ashamed of themselves. They couldn't crank out a few more to make it an even 10?
Wait, I'll be right back. I've got to go buy an electron microscope and one of those jeweler's loupes so I can find a violin small enough for Bob McDonnell.
Newsbusters apparently missed McDonnell's week-late apology for omitting any mention of slavery in his proclamation to "promote tourism" by celebrating Confederate History Month. In a neat coincidence, slave ship owners also forgot to mention slavery in their efforts to "promote tourism."
McDonnell's actions with regard to this proclamation are pretty reprehensible by themselves. Whether he mentioned slavery or not, America has moved past this argument over the Confederacy. Virginia got by pretty well for 8 years without Confederate History Month. As some have suggested, a "Civil Way History Month" would afford ample opportunity to honor the dead from both sides, without glorifying the cause of slavery.
But that's not all. McDonnell also wasted little time in rescinding protections for LGBT state workers, and you may also recall that McDonnell delivered the Republican response to the State of the Union this year. When viewed through the lens of nostalgia for the Confederacy, the notion that McDonnell's speech was posed to look like an alternate white SOTU isn't so far-fetched.
As for Newsbusters, I'm surprised at them for being this tone-deaf. People on the left, and even in the center, tend to dismiss Newsbusters a little too quickly. While their coverage of the media is one-sided by design, they're also a pretty sharp bunch most of the time. For example, although our conclusions were different, they picked up on the same detail I did regarding Bill Press' question to Robert Gibbs about Erick Erickson.
Sometimes, there really aren't two sides to every issue, and I think  this is one of them. When someone screws up really badly, people are going to write about it. That doesn't make them hit pieces, any more than the 7-plus stories about Tiger Woods every day of his scandal were "hit pieces."
Have a tip we should know? tips@mediaite.com