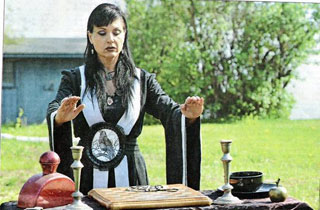 A Lancaster, PA newspaper felt compelled to apologize to its readers after it learned that a witch they profiled also happened to be a prostitute. Furthermore, they pulled the story immediately, because prostitute witches can't be written about in Lancaster County.
(To put all of this in context: the story was originally published in Lancaster Online's "Faith and Values" section, and Lancaster, PA is the hub of Amish country, a.k.a. a 200-year-old adaptation of The Crucible. Enough said.)
"Soon after the story was published, information surfaced that the woman, Kim Cabot Consoli, had a criminal record that most recently included charges of prostitution and promoting prostitution," executive editor Barbara Hough Roda wrote in a letter apologizing about the witch profile. "Had this information been mined earlier, the story would never have been written, let alone published." (Consoli, who runs a spa and Wiccan learning center out of her house, allegedly solicited an undercover officer for sex. And then she turned him into a newt, but he got better.)
She also apologized for the profile's tone, which apparently suggested that the pious Lancaster County was being infested by Satan-loving witches:
Like many stories, its unusual nature made it newsworthy. Yet while the presence of one witch living among us is noteworthy, even unique, it is also true that Lancaster County is certainly not seeing a proliferation of Wiccans.
Our presentation and the amount of space we gave the story wrongly suggested the latter. Our report focused largely on one woman, and did not put witchcraft into a larger context of the faith and values of our community. Our overall treatment was certainly not proportional to the scope of the subject matter.
But it's okay, Lancaster County, because she's just the one witch and she certainly won't take your daughters into the woods to dance with Satan and Tituba. In any case, the story was yanked and the witch has a copy of it on her Facebook Necromonicon.
[h/t Gawker]
[Image via Kim Cabot Consoli/Facebook]
—
>> Follow Tina Nguyen (@Tina_Nguyen) on Twitter
Have a tip we should know? tips@mediaite.com