Newspaper To Bill O'Reilly: We Regret Likening Fox News To KKK, But 'We Stand By Criticism' Of Network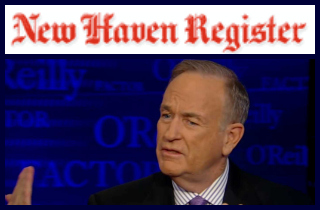 The New Haven Register issued a lengthy statement on Thursday afternoon in response to Fox News host Bill O'Reilly's calls for the paper to apologize for likening his network's rhetoric on race to that of the Klu Klux Klan.
Monday's edition of the Register included an editorial titled "The KKK, Ted Nugent and 'mainstream' racism," which lambasted Fox News and some of its more famous guests for promoting "the same basic message" as the KKK's: "black people being an inferior race …, a fear of and opposition to immigration and expressions of disgust and hatred toward gay people."
In a fiery "Talking Points Memo" on Wednesday evening, O'Reilly demanded the "cowardly" newspaper apologize for the "vile, libelous piece of garbage" editorial by the end of this week. Thursday morning's response from the newspaper didn't go as far as outright apologize, but instead issued regrets and further clarifications:
We did not intend to compare Fox News specifically to the KKK and we should have done a better job clarifying that when we said that the "same basic message that the KKK has promoted for 148 years is embraced by the likes of Ted Nugent, Fox News, Ann Coulter, a burgeoning array of fringe 'conservative' media." It was a poor choice of words that created an unfortunate comparison between Fox News and the KKK. We're sorry for that. We did not intend to make any such comparison. This comparison should have been more specific to Nugent's and Coulter's views and statements about people of color, immigrants and gay people, and to be clear, was relating that to the ideology of the KKK, not its abhorrent history of violence.
Despite the regrettable language, editor Matt DeRienzo wrote, "We stand by our criticism and call for Fox News to challenge and condemn the hatred and racism advocated by guests such as Ted Nugent and Ann Coulter instead of continuing to give them a platform."
Much of the piece quoted readers who took issue with the Fox-KKK comparison, but DeRienzo maintained that the editorial's criticism was specifically meant for Nugent, whose "bile is as blatantly racist, xenophobic and homophobic as KKK speeches of yesteryear."
"There's no comparing Fox News and the Republican Party to the KKK, and we were wrong in making that connection," DeRienzo's statement concluded, "But it is mind-boggling that they would help legitimize and give voice to people who are reading from their syllabus."
Watch the O'Reilly criticism of the Register below, via Fox:
— —
>> Follow Andrew Kirell (@AndrewKirell) on Twitter
Have a tip we should know? tips@mediaite.com