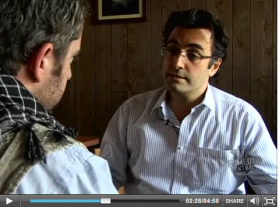 It is a very small world. You may recall back in June The Daily Show sent correspondent Jason Jones to Iran just ahead of the elections to film a series of "funny" spots about how the country was dealing with the election. Of course, neither the Daily Show nor the rest of the world could have anticipated the sweeping and violent protests that followed the elections. Yet instead of shelving the spots for a more appropriate time, the show opted to air the segments anyway; it was a decision that struck as amazingly tone deaf (I actually thought it bordered on offensive), particularly for a show that prides itself on being one step savvier than the rest.
One of Jones' subjects happened to be Maziar Bahari, the Newsweek reporter who was shortly thereafter kidnapped and jailed during the protests and held captive for 188 days. Bahari was finally released last month – just in time for the birth of his first child — and this week's Newsweek cover story is devoted to his recounting of his time in an Iranian prison where he was interrogated and beaten. Here's where it gets equally interesting and terrifying: Was The Daily Show in part to blame for Bahari's imprisonment?
Here's what Bahari writes in Newsweek about the "interesting video footage" his interrogators produced as evidence he was a spy :
"Well," said Mr. Rosewater, who had been fairly quiet up to this point, "we have interesting video footage of you. That may persuade you to be more cooperative." I could not imagine what that might be. Something personal? Something that might compromise my friends? But…I reminded myself I had done nothing wrong.

I saw the flicker of a laptop monitor under my blindfold. Then I heard someone speaking. It was a recording of another prisoner's confession. "It's not that one," said the second interrogator. "It's the one marked 'Spy in coffee shop.' " Mr. Rosewater fumbled with the computer. The other man stepped in to change the DVD. And then I heard the voice of Jon Stewart on The Daily Show.

Only a few weeks earlier, hundreds of foreign reporters had been allowed into the country in the run-up to the election. Among them was Jason Jones, a "correspondent" for Stewart's satirical news program. Jason interviewed me in a Tehran coffee shop, pretending to be a thick-skulled American. He dressed like some character out of a B movie about mercenaries in the Middle East—with a checkered Palestinian kaffiyeh around his neck and dark sunglasses. The "interview" was very short. Jason asked me why Iran was evil. I answered that Iran was not evil. I added that, as a matter of fact, Iran and America shared many enemies and interests in common. But the interrogators weren't interested in what I was saying. They were fixated on Jason.

"Why is this American dressed like a spy, Mr. Bahari?" asked the new man.

"He is pretending to be a spy. It's part of a comedy show," I answered.

"Tell the truth!" Mr. Rosewater shouted. "What is so funny about sitting in a coffee shop with a kaffiyeh and sunglasses?"

"It's just a joke. Nothing serious. It's stupid." I was getting worried. "I hope you are not suggesting that he is a real spy."

"Can you tell us why an American journalist pretending to be a spy has chosen you to interview?" asked the man with the creases. "We know from your contacts and background that you told them who to interview for their program." The other Iranians interviewed in Jason's report—a former vice president and a former foreign minister—had been ar-rested a week before me as part of the IRGC's sweeping crackdown. "It's just comedy," I said, feeling weak.

"Do you think it's also funny that you say Iran and America have a lot in common?" Mr. Rosewater asked, declaring that he was losing patience with me. He took my left ear in his hand and started to squeeze it as if he were wringing out a lemon. Then he whispered into it. "This kind of behavior will not help you. Many people have rotted in this prison. You can be one of them."
As I said, at the time those clips aired I found them non-funny and borderline offensive — fake news tends to lose its thrust when real news reporters (and civilians) are risking their lives to do get the actual news out to world. Even now they are cringe-inducing. But beyond that — wow has the Internet made the world small. The idea that The Daily Show, such a very American product, is not only accessible to someone in Iran, but could be used a proof to imprison one of its subjects is the somewhat terrifying flip side to the coin that brought the world #iranelection via Twitter. Also, boy do we take our freedom of media for granted, both what we watch and what we put online. One can't help but wonder whether this is an early warning sign that one day soon we are all going to have to be aware of and responsible for the far-flung ramifications of what we choose to post on the Internet. Bahari's Daily Show appearance below.


Have a tip we should know? tips@mediaite.com