Newt Gingrich Is 'Very Angry' at the Media for 'Distorting' Anti-Semitic Trump Tweet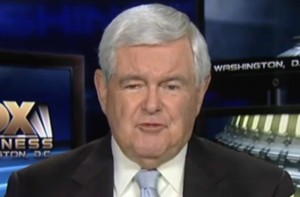 Newt Gingrich is "very angry" at the media for saying that an image that came from a Neo-Nazi message board is anti-Semitic.
In a phone interview with CNN, Gingrich said, "I think it is so profoundly dishonest that it sickens me and makes me very angry," Gingrich said. "The media's deliberate distortion. It's absurdity."
He pointed to Jewish family members of Trump's and said he can't understand the "smear" of why something that was first posted by a Twitter user who also created a Hillary Clinton swastika would be considered offensive to people.
And as it turns out, it was Gingrich who was encouraging Trump to keep defending it yesterday:
Newt Gingrich tells me that he encouraged Trump to keep up Star defense as they flew back to NYC last night

— Robert Costa (@costareports) July 7, 2016
And last night, remember, Trump said he wishes the image––which, again, was posted on a Neo-Nazi message board with a Neo-Nazi "hh" code in the name of the image––had stayed on his Twitter page.
And Gingrich said that Trump would be making attacks against the media a big part of his campaign going forward:
"A substantial part of the campaign is going to be — if you think the news media is honest and fair and totally neutral, then you ought to vote for Hillary. But if you think the news media is biased, then join me."
Gingrich also appears to have encouraged Trump's not-at-all-insane Frozen sticker book tweet, saying, "Does anybody want to argue that Frozen is anti-Semitic?"
Because we all remember that time the cover of a Frozen sticker book appeared on a Neo-Nazi message board, right?
[image via screengrab]
— —
Follow Josh Feldman on Twitter: @feldmaniac
This is an opinion piece. The views expressed in this article are those of just the author.
Josh Feldman - Senior Editor