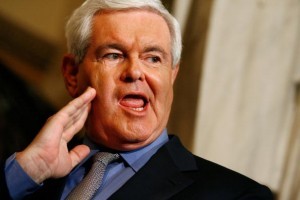 Looks like Newt Gingrich will be calling it straight from now on. Speaking in regards of his fellow GOP hopefuls, he went ahead and explained that he would make the better president because he is smarter. As he explained, "They're nice people, but they don't have the knowledge to do something like this on this scale." The president's job, you see, "is enormously complicated."
"I'm not running against any of my friends, they're all good people," Gingrich told group of journalists in Iowa, according to MSNBC. "But if you watch them and watch me, the difference in the depth of knowledge and the difference in the ability to debate Obama, the difference in actually having done it at the national level, I can't only think if you're worried about the future of the country and you're worried about how we get the country fixed, I'm a pretty good mechanic who knows how to fix the car and the other folks are good at selling it.
Yesterday, Gingrich released an updated version of his 1994 "Contract of America," a plan that helped Republicans gain control of the House and Gingrich the speakership. Unlike the original, Gingrich's lengthier new plan lays out his plan for the country over a span of 26 pages, and is meant to be "more of an open letter." Today, according to MSNBC, he apologized for his long winded reading of the plan, but also defended the amount of time these sorts of things require:
[Gingrich] again went point-by-point on his plan — and again apologized for taking so long to describe it, but "it took so long to put together," he said.

Gingrich also claimed that he has been studying how to make the U.S. better since he was a freshman or sophomore in high school.
For what it's worth, Gingrich has also said he "typed it with his thumbs in the memo section of his BlackBerry as ideas struck him," a work strategy that we can't imagine is the most efficient.
Have a tip we should know? tips@mediaite.com