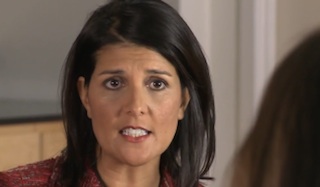 A false March 29 report that South Carolina Governor Nikki Haley was on the brink of being indicted emerged on a blog called the Palmetto Public Record and traveled far and wide across the political blogosphere. The report lacked validity and has since been a cautionary tale in our "publish first, ask questions later" media landscape, The New York Times' Jeremy Peters reports. Haley — who was considered a top Republican Vice Presidential pick — fears the erroneous report may have done "lasting damage to her reputation."
The false report originated with 25-year-old South Carolina blogger Logan Smith who was unapologetic to Haley, "I reported that credible sources said they believed the governor would be indicted — not that I knew she would be indicted, or even whether or not I personally believed she would be indicted."
RELATED: Gov. Nikki Haley On The View: 'Women Don't Care About Contraception'
Peters chronicled how the lie traveled quickly around the internet, breathlessly reported by multiple online sources before being vetted:
March 29, 12:52 p.m.: The Palmetto Public Record publishes article entitled "Haley indictment imminent? Stay tuned. …" citing two unidentified "well-placed legal experts" who said they expected the federal Department of Justice to indict Ms. Haley "as early as this week" on charges stemming from her involvement with a local Sikh temple.

12:54 p.m.: A blogger for The Hill, a Washington newspaper that focuses on government and politics, sends a Twitter post about the article to his 1,500 followers" BuzzFeed reposts two minutes later; The Washington Post 18 minutes after that.

1:03 p.m.: The Daily Beast posts a short article, which it later removes, about the Palmetto Public Record report, becoming one of many online outlets to write lengthier items, including Daily Kos and The Daily Caller.

1:12 p.m.: A USA Today reporter contacts Ms. Haley's office with a request for comment.

1:22 p.m.: The Romney campaign, which is reported to be considering Ms. Haley as one of many possible vice-presidential choices, receives a request for comment from ABC News.

1:25 p.m.: Mr. Smith seems bemused by all the attention his report is getting, posting on Twitter: "Well, now I know what it's like to watch a story go viral in real time."

3:29 p.m.: Matt Drudge, whose heavily visited Drudge Report can help drive decisions in newsrooms around the country, links to a Daily Caller article under the headline "REPORT: DOJ targets S.C. Gov. Nikki Haley."
Peters reports while many wrote updates to the story e.g. "Haley Denies Report", few apologized for promulgating the false report. Notably, he points out, Tucker Carlson, editor in chief of The Daily Caller, apologized personally to Haley.
h/t New York Times
Have a tip we should know? tips@mediaite.com