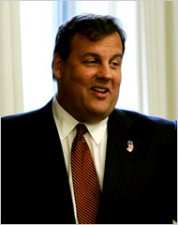 The New York Times is not happy with New Jersey Governor Jon S. Corzine, who they charge with exploiting his opponent's weight on the campaign trail. And to think we thought fat was in. Gov. Corzine's campaign is currently running a TV spot that features challenger Christopher Christie from a less than flattering angle, and uses puns to highlight his gut.
The ad shows Christie "stepping out of an S.U.V. in extreme slow motion, his extra girth moving, just as slowly, in several different directions at once," according to the Times. In the voiceover accompanying the clip, Christie is charged with throwing "his weight around" to stay above the law. But that's not all! And the Times is indignant:
Mr. Corzine's television commercials and Web videos feature unattractive images of Mr. Christie, sometimes shot from the side or backside, highlighting his heft, jowls and double chin.
Corzine, meanwhile, spends much of his time in public exercising, and his weight jabs seem to be working. According to a poll at a local college, "fat" was one of the first things that came to mind when people were asked about Christie. Still, it's interesting to see the Times take such offense — enough to fuel a two-page piece — about campaign commercials, which frequently portray opponents in any negative light possible, though their history lesson of politics and weight is well worth a read.
What do you think: Is the Times too sensitive ("all's fair in love and politics") or has the Corzine campaign crossed the line? Check out the clip in question below:
Have a tip we should know? tips@mediaite.com