No Mr. President, Your 'Enemies' Never Described Your Foreign Speech as 'Greatest Ever'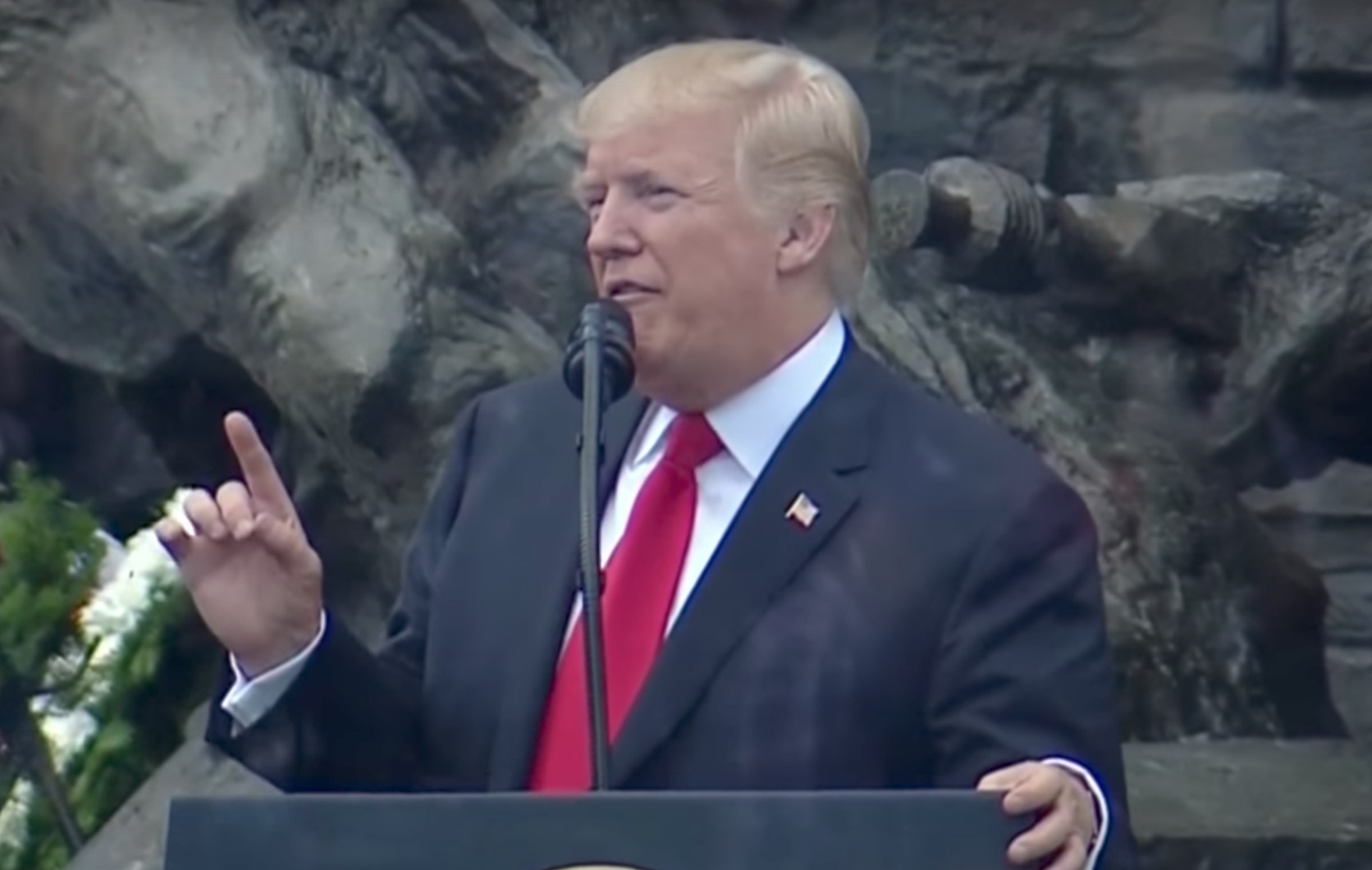 The New York Times published excerpts of an extensive sit down with the president Wednesday night, and it was textbook Trump: in a rambling, ad-hoc discussion the president took time to sound off on the failed Senate health care bill, opine on the fates of Napoleon and Hitler, and shank his own Attorney General Jeff Sessions.
While his freshly ignited feud with Sessions has been sucking up most of the media's oxygen Thursday morning, one curious comment from the president deserves scrutiny: the claim that his "enemies" are saying his July 6 speech in Poland was "the greatest speech ever made on foreign soil by a president."
Here's an excerpt of that exchange between Trump and the NYT's Maggie Haberman:
HABERMAN: [In Paris], I don't think I've seen you look like you were enjoying yourself that much since the convention, really.

TRUMP: I have had the best reviews on foreign land. So I go to Poland and make a speech. Enemies of mine in the media, enemies of mine are saying it was the greatest speech ever made on foreign soil by a president. I'm saying, man, they cover [garbled]. You saw the reviews I got on that speech. Poland was beautiful and wonderful, and the reception was incredible.
Now, Trump has long been known — since his time as a fixture in the New York tabloids' gossip pages — as an proponent of what his ghostwriter Tony Schwartz dubbed "truthful hyperbole" in The Art of the Deal.
But the casual truth-bending Trump often deploys to exaggerate his successes snapped reality in half with the baffling notion that anyone critical of the president would have such warm words for his Poland speech.
The address was held on fertile ground for the president's nationalistic tendencies: delivered in Warsaw before a rapturous crowd of supporters of the country's right-wing government, Trump basked in the piping hot reception and lauded the direction of Poland's nationalist leadership.
At home, the usual suspects lionized Trump's Warsaw address. Corey Lewandowski — Trump's former campaign manager who seems to be on a perpetual crusade to get a job in the White House since he was fired from the campaign — called the Warsaw speech "Reaganesque" in an blindingly fawning op-ed. The Fox News commentariat was equally sycophantic.
As for Trump's "enemies," the reception was naturally less gentle. Trump safe-space-turned-torture-chamber Morning Joe slammed the "extremely disappointing" speech for chastising the American media on foreign soil — Chuck Todd agreed. Vox called the speech an "alt-right manifesto," The Atlantic's Peter Beinart bemoaned its "racial and religious paranoia," and The Washington Post's Jonathan Capehart accused Trump of deploying "white-nationalist dog whistles."
Commentator Malcolm Nance appeared on MSNBC to call the speech "the ultimate fulfillment of Osama bin Laden's ideology of the belief that there would be a clash of civilizations."
There was, it must be noted, some very cautious praise from conservatives who otherwise take great issue with Trump's nebulous foreign policy. David Frum wrote that "Trump's address in Warsaw was fair. Ish," apparently arguing that if you closed your eyes and forgot it was Trump speaking, you might enjoy the speech's defense of Western values. The National Review's Rich Lowry hailed Trump's speech as the "best of his presidency," but stopped well short of calling it the best ever delivered on foreign soil.
So Trump may have given his conservative critics a brief respite from their lamentations over the end of American values being trumpeted overseas. But there is absolutely no indication his "enemies" would rank the Warsaw speech above Trump's more rhetorically gifted predecessors.
[image via screengrab]
—
Follow Aidan McLaughlin (@aidnmclaughlin) on Twitter
This is an opinion piece. The views expressed in this article are those of just the author.
Aidan McLaughlin - Editor in Chief