'None of This Would Have Happened': RNC Spox Blames Podesta For Russian Hacking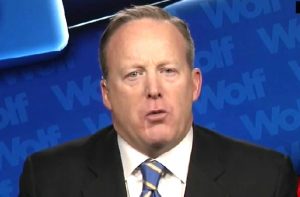 During an interview on CNN today, Republican National Committee spokesperson Sean Spicer essentially blamed Clinton campaign chairman John Podesta for Russian's hacking his email, stating that if it weren't for him and others behaving badly none of the hacking would have occurred.
Speaking to host Wolf Blitzer, Spicer was asked about the CIA's assessment that Russia intervened in the election to assist Donald Trump. Spicer pushed back on that, bringing up recent stories that have shown there is disagreement among intelligence agencies on the motive of Russia's hacking. He also criticized the use of unnamed sources by the media.
(Spicer had previously argued with CNN's Michael Smerconish on the CIA report published by the Washington Post, questioning the validity of the reporting by the Post and the New York Times, who stated in their article that the RNC was also hacked.)
Blitzer then wanted to know if Spicer agreed with Congress investigating the matter, leading the RNC spox to say that he did but claiming that it was actually members of Hillary Clinton's campaign that were really to blame.
"The only reason we're talking about some of this is John Podesta and Neera Tanden and others on the left said some things in e-mails that they wished hadn't come out," Spicer told the CNN host.
"If they hadn't behaved the way they did," he continued. "Then none of this would have happened."
Spicer then conflated Podesta getting his Gmail account hacked with Hillary Clinton's private server while serving in State, which, of course, are two very different things.
"They wrote those e-mails. They're the one who had a secret server. They're the ones who didn't put proper protocols in place…And I'm not disqualifying the second piece of this. But we keep forgetting in this discussion that it was them who had a secret server. It was them who didn't abide by rules and regulations set by the government and by the State Department to ensure that some of this kind of stuff wouldn't happen. And that's been lost in this discussion."
For his part, Blitzer did not correct Spicer on his last statement or inform the audience that the RNC communications director was confusing two events. Instead, he just moved onto another question because he knew Spicer had to get going.
Watch the clip above, via CNN.
[image via screengrab]
–
Follow Justin Baragona on Twitter: @justinbaragona
Have a tip we should know? tips@mediaite.com