Now the Chinese Gov't Wants ABC to Apologize for Kimmel 'Kill Everyone in China' Comment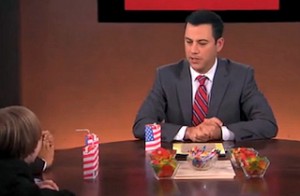 It would be incredibly stupid, but also too hilarious for words, if a child's ignorant musings on a comedy show ended up causing an international incident. Hopefully it won't come to that, but adding on to all the outcry over a little boy suggesting the U.S. "kill everyone in China" on Jimmy Kimmel Live is the Chinese government. The Chinese Foreign Ministry has actually weighed in and demanded ABC apologize for airing the remark in the first place.


And in case you're thinking, "I thought they already apologized," they did! Twice!
But two separate apologies were not sufficient for the legions of people so outraged and offended, they flocked en masse to the White House petition site and now the White House has basically been forced into issuing a response to a petition that compares Jimmy Kimmel and the American Broadcasting Company to the Nazis.
In spite of the writer who chronicled most of this fallout now singing a different tune, the Chinese government has decided to pick up the mantle of outrage and place it firmly on the world stage.
At a press briefing in Beijing on Monday, covered by state broadcaster CCTV, Foreign Ministry spokesman Qin Gang told reporters, "ABC should face up to its mistake and respond with a sincere attitude to the reasonable demands by Chinese people in America, and prevent a similar incident from occurring again."
This is in no way getting out of hand.
And in case you needed a reminder of the shot heard 'round the world, you can watch it below, via South China Morning Post:
Have a tip we should know? tips@mediaite.com
Josh Feldman - Senior Editor