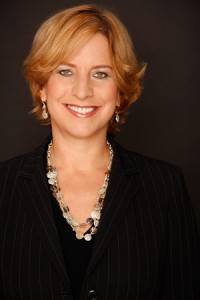 [Updated with ed. note below] Last week,  Vivian Schiller, CEO and President of NPR, offered the Daily Beast her opinion on the New York Times' recently announced pay wall. However, as head of one of the largest donations-based media organizations in history, Schiller really doesn't need to worry.
"As much as I wish all news organizations well with what they're doing," she says, "if people are turned off by pay walls they can always come to us."
The true irony of the situation is that Schiller spent seven years at The New York Times Co. as the SVP overseeing the creation and demise of the Times Select, the Grey Lady's first attempt at charging for content.  She concluded that era by saying "We believe offering unfettered access to New York Times reporting and analysis best serves the interest of our readers."
Now, Schiller lauds the Times' second attempt to charge for news, citing leaps in technology and changing business models as the impetus for her changed perspective:
"Back then, it was important to build a mass audience. When we took the pay wall down we went from 12 million unique visitors per month to 20 million. That's pretty quick. But today–and the internet works in dog years, so two years ago might well have been 15 years ago–the business model is that mass numbers won't lead to an increase in advertising. You need to come up with a second revenue stream…somebody had to try this, and the Times has the best shot at making it work."
Whether or not it will work is another matter. Schiller seemed only negligibly concerned that the Times would lose readers and instead cited the resources needed for construction versus ultimate profit as a larger concern. The Times Select's $10 million was pocket change for the paper, which rakes in over $1 billion in annual revenue. In order to succeed, their new pay wall will "have to make multiples of tens of millions."
But ultimately, Schiller has little reason to worry. NPR long ago developed a business model to support free content and currently earns about $300 million a year through donations*. This may partially explain why, when Mediaite asked Schiller how she felt about the future of journalism, she said, "Excited. A golden age of journalism is going to emerge from the hellish years we are going through. I'm sure of it."
Whether or not the New York Times will agree remains to be seen.
* Ed. note: It's important to clarify that donations do not actually go to NPR. Many listeners may or may not be aware of the distinction between NPR and the local stations but it is a big one, particularly when it comes to how money is taken in and distributed. Schiller explains it in greater detail here, but the condensed version goes something like this:
The way that we're structured, NPR is a central organization. We are a news gathering and news reporting, producing and distribution organization. We have 36 bureaus around the world. We produce programs, we also license and distribute programs. We also provide services to the stations in all manner of technology, lobbying — you name it. But each station is run autonomously, so they're not really affiliates.
And here's a quick rundown of the revenue stream, donations it should be noted go directly to your local station, not to NPR:
We have multiple revenue streams: Sixty percent of our revenue comes from stations, and stations are struggling, though interestingly revenue from our pledge drives is up. Then we get approximately 20 percent from underwriting, and we also get money from foundations and philanthropy and gifts, all of which are struggling in this economy. We get less than one percent from government-supported entities. We also get some from earnings from our endowment which, like everyone else's investments, are down.
Have a tip we should know? [email protected]