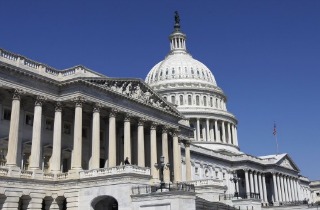 According to new a study done by the Pew Forum on Religion & Public Life, there are an increasing number of Congress men and women who report that they don't identify with any particular religion.
Pew asks Congresspeople if they don't belong to any particular faith, don't know or refuse to answer. In the 113th Congress, sworn in last week, 10 members fall under this category, making up about 2% of Congress. This number corresponds roughly to the percentage of U.S. adults who say they don't know or refuse to specify their faith.
RELATED: UK's First Atheist Church Set To Open Tomorrow
Only one representative, Kyrsten Sinema (D-AZ), describes herself as religiously unaffiliated. This number is vastly different than the general population, in which approximately 20% of American adults say they are atheist, agnostic or "nothing in particular." This group is often called the "nones."
Interestingly, the "nones" were the same voting bloc that helped propel President Obama to his second-term victory. Pew noted the "nones" tend to be younger, socially liberal, and Democratic. Obama won over 70 percent of this vote.
Gregory Smith of the Pew Forum on Religion & Public Life told NPR, "This really is a striking development in American politics. There's no question that the religiously unaffiliated are a very important, politically consequential group."
POLITICO notes that in 96th Congress (1979-80), not a single member of Congress said they did not belong to any particular faith. Even in the 111th Congress (2009-10), only five members were reported to be among this group.
h/t POLITICO
—
>> Follow Anjali Sareen (@AnjaliSareen) On Twitter
Have a tip we should know? tips@mediaite.com