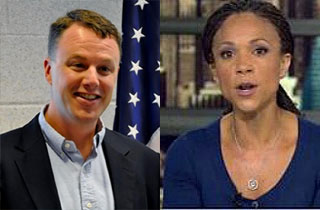 A New York politician and State Senate candidate touched off a firestorm of controversy by calling black MSNBC anchor Melissa Harris-Perry a "damn dirty ape" on Twitter.
A year ago, Jim Coughlan, the Republican comptroller for Duchess County who describes himself as "very conservative," made the comment as a reply to this tweet from conservative blogger David Burge, who was responding Harris-Perry's controversial MSNBC promo on education.
Coughlan retweeted Burge's tweet, adding his own comment: "Keep your stinking paws off my kid, you damned dirty ape."
When confronted by the New York Daily News last week, he said that he hadn't realized that Harris-Perry was black, adding that he was simply making a Planet of the Apes reference and not alluding to her race.
"I don't watch MSNBC," he said. "I don't know about their stories or their journalists." He deleted his Twitter account after his followers suggested that his comments were racist, but the tweets surfaced soon after he announced his candidacy for the State Senate.
While this may be true, his behavior has local Democrats up in arms — and, surprisingly, many Republicans as well.
"Jim Coughlan is toxic," an unnamed GOP source told the Daily News. "The Democrats are dying to run against him in November because they know he's the best chance they have of keeping this seat in Democratic hands."
And regardless of Coughlan's ignorance of Melissa Harris-Perry's race, Democratic legislator Gwen Johnson called the Republican irresponsible: "If you're a public official and you're running … you should know what you're tweeting about and who you're tweeting about."
[NYDN via Atlanta Black Star]
[Image via screengrab/Wikimedia Commons]
—
>> Follow Tina Nguyen (@Tina_Nguyen) on Twitter
Have a tip we should know? tips@mediaite.com