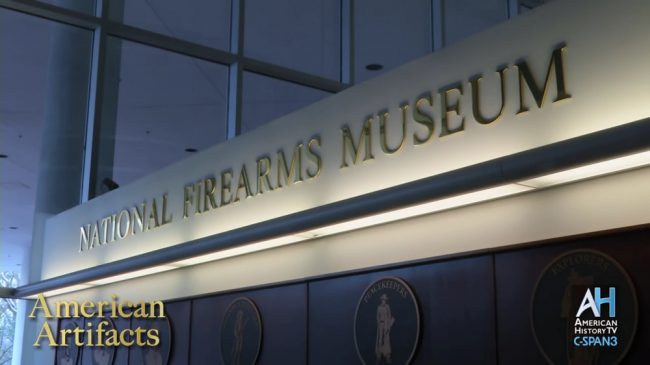 New York Times editorial board member Francis X. Clines targeted the National Rifle Association on Monday over its Hollywood-themed exhibit at its National Firearms Museum.
"The gallery devoted to Hollywood and its guns and good-guy shooters that best illustrates the power of fantasy now driving the modern gun rights debate," Clines wrote in his editorial.
He soon added that "the cardboard fantasy of the good guy gunning down the bad guy is what makes the museum work as an enjoyable escape from the life-and-death reality of American gun carnage."
The former Times reporter first zeroed in on the cardboard cut-out of Hollywood legend John Wayne that stands at the exhibit's entrance. He contended that it was "no wonder modern Florida legislators could not resist protecting actual shooters who draw and fire like John Wayne as guilt-free, 'stand-your-ground' defenders."
Clines also emphasized that "the museum narrative identifies the actual movie guns, not the actors, as having the 'starring' roles in assorted western and terrorist-fantasy shootouts."
The opinion writer later bewailed Hollywood's supposed inaction in promoting gun control: "Why is there no stream of gripping films about the thousands of troubled Americans with easy access to guns who can lethally act out their darkest grievances on family and society day after day?"
While there is certainly no "stream" of such films coming out of the liberal industry, there was a recent example of such a movie: Miss Sloane. However, the newspaper's movie reviewer joined several of his counterparts in yawning at the December 2016 release:
"Partly because 'Miss Sloane' is more a character study than a coherent political drama, it fumbles the issue it purports to address, and it eventually runs aground in a preposterous ending. In light of the recent presidential election, it all feels like small potatoes."
The film also bombed at the box office — making only a fraction of the reported $13 million cost to produce it.
Near the end of his piece, Clines outlined that "the N.R.A.'s latest priority is rooted in its ultimate fantasy that society will be safer if ordinary Americans are allowed to routinely pack a pistol. The organization is pushing Congress to pass a national concealed-carry reciprocity law to make it easier for people with state concealed-gun permits to carry their firearms nationwide."
The former reporter pointed out how "opponents wisely fear that national reciprocity is a ploy to sell more guns and undermine stronger local and state gun controls." He also cited that "gun safety researchers count more than 900 people killed by concealed-carry gun owners in the past decade, with only a tiny fraction of shootings ruled self-defense."
You may remember that recently, NRA spokesperson Dana Loesch specifically called out the Times in response to its ad about getting to the truth.
You can read the full editorial here.
[h/t Washington Free Beacon]
[image via screengrab]
Have a tip we should know? tips@mediaite.com