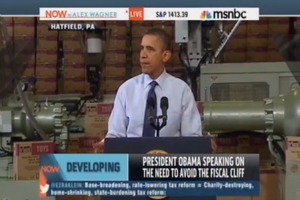 On Monday, the New York Times updated its readers on the status of the ongoing negotiations between the White House and Congressional Republicans to strike a deal which would resolve the upcoming fiscal cliff. The Times' review of the state of negotiations reads more like cheerleading for President Barack Obama's newly-energetic negotiating style. The Times does not dwell on the fact that the White House's entry into negotiations has scuttled progress and obliterated a rapidly coalescing bipartisan consensus around tax increases coupled with entitlement reforms which many prominent members of Congress had agreed to in theory last week.

"Disciplined and unyielding," New York Times' reporter Peter Baker writes, "[Obama] argues for raising taxes on the wealthy while offering nothing new to rein in spending and overhaul entitlement programs beyond what was on the table last year."
Baker argues that Obama is snake bit from his experience negotiating with Republicans during the debate over the debt ceiling increase in the summer of 2011. The Times characterizes those negotiations as a "painful experience" for the president – not to mention, the nation which saw its credit rating downgraded for the first time in its history following that prolonged negotiation.
"In his first four years in office, Mr. Obama has repeatedly offered what he considered compromises on stimulus spending, health care and deficit reduction to Republicans, who either rejected them as inadequate or pocketed them and insisted on more," Baker writes.
The Times notes that Obama campaigned and won on a single platform – raising income tax rates – and that should make his experience lobbying Congress for reforms easier (as opposed to George W. Bush, who did not campaigning on reforming Social Security and encountered immovable roadblocks in Congress when he pressed for those reforms). The fact, however, that Obama is finding recalcitrance in Congress, even though he won the election campaigning on higher taxes, does not merit any analysis.
Nor does the scuttling of negotiations since Treasury Sec. Timothy Geithner was sent by the administration to communicate the White House's opening salvo deserve much consideration. Indeed, the Times piece treats the collapse of negotiations as an act of nature – noting that "the process has collapsed" after Geithner's meeting with Congressional Republican leaders, though carefully refusing to ascribe blame for that event.
Fortunately for Congress and, indeed, the nation, the president never stops working on the problem – even when he is golfing.
"The depth of disagreement played out on the Sunday morning talk shows, even as Mr. Obama went golfing with former President Bill Clinton in a session that White House officials presumed would include trading notes about the fiscal crisis," the Times notes. Lest the reader believe that Obama is merely having fun while the clock rapidly ticks down to a crisis, the Times is certain to note that this was a working outing.
Baker concludes with supportive quotes from Republicans who stress that the only leverage they have in this battle over the fiscal cliff is an increase in tax rates for high-income earners. Republicans will no surrender that leverage this early in negotiations. Instead of come prepared with a face-saving way for Republicans to extricate themselves from this crisis – and Congressional Republicans want a way out desperately – Obama's offer amounted to political suicide. The GOP is carefully weighing now just taking their chances with their party's primary voters and let the nation go over the cliff.
The Times chose to praise Obama's aggressive negotiating style without noting the obvious – Obama has overreached. The White House has a mandate to raise income taxes – dividends and capital gains were not part of the campaign, but in an opening salvo there is nothing wrong with suggesting those should be increased as well. Even postponed spending cuts would be a serious negotiating position – insulting to Republicans, but serious nevertheless (or, at least, precedented).
The White House did not stop there. They asked for a permanent ceding of Congress' power to increase the debt ceiling – a power that no Congress, even one dominated by Democrats with a Democratic White House, would never surrender. Still more "stimulus spending" is also a non-starter for a Republican majority propelled to Congress in 2010 on the heels of fruitless, Keynesian pump-priming.
An effective negotiating position is one that invites a counteroffer. His offer was coupled with a series of campaign speeches in which the president called is Republican opponents "scrooge." Obama's proposal prompted Republican leaders to contemplate walking away from the table and take the hit in public opinion. That isn't hardball, it's recklessness.
The Times lauds Obama's negotiating style in spite of their calamitous effects because progressives have long told themselves that Obama is a pushover. The left has never been comfortable with the president's willingness to negotiate and, in their view, surrender key goals of modern liberalism in exchange for more immediate legislative successes.
The Times would rather nurse Obama's new-found combative instincts than see genuine progress in these negotiations. Republicans cannot accept most of what Obama has proposed, leaving little room to negotiate to a mutually acceptable resolution. This is a rapidly escalating crisis – and the White House is to blame.
> >Follow Noah Rothman (@Noah_C_Rothman) on Twitter
Have a tip we should know? tips@mediaite.com