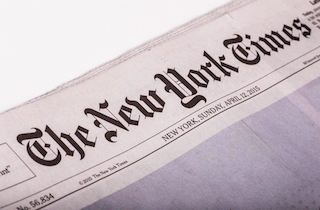 New York Times Public Editor Margaret Sullivan castigated the paper Monday morning for its story on a Hillary Clinton Justice Department inquiry, which, by the time the paper was done updating it, was significantly less significant than it originally appeared.
The story appeared Friday morning, reporting that two inspectors general had recommended Clinton's use of a private email server while at the State Department for a criminal inquiry. Over the next two days, the story was substantially revised, and no longer specifically targeted Clinton or was criminal in nature.
Sullivan faulted the use of anonymous sources — her Moby Dick — the fact that the two reporters didn't get to look at the actual documents, but relied upon said anonymous sources' interpretations of them.
"We got it wrong because our very good sources had it wrong," the piece's editor told her. "That's an explanation, not an excuse. We have an obligation to get facts right and we work very hard to do that."
RELATED: Fmr NY Times Sr. Reporter Reams Paper over Hillary Email Story
Sullivan issued several recommendations, including slowing down:
Reporting a less sensational version of the story, with a headline that did not include the word "criminal," and continuing to develop it the next day would have been a wise play. Better yet: Waiting until the next day to publish anything at all.

Losing the story to another news outlet would have been a far, far better outcome than publishing an unfair story and damaging The Times's reputation for accuracy.
Executive Editor Dean Baquet agreed that the paper should have been far more transparent in what changes were being made and why; many of the story's revisions were done without any indication.
"We should have explained to our readers right away what happened here, as soon as we knew it," Baquet said.
[h/t New York Times]
[Image via littleny / Shutterstock.com]
——
>> Follow Evan McMurry (@evanmcmurry) on Twitter
Have a tip we should know? tips@mediaite.com