NY Times Public Editor Slams Reporters Who Saw Nate Silver As 'Disruptive' To Paper's 'Culture'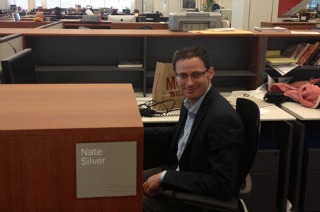 On Monday, New York Times numbers cruncher and statistical guru, Nate Silver, formally announced that he was departing the newspaper to head over to ESPN and return to analyzing statistics related to sports while the political season is in a lull. After his departure was announced, New York Times public editor, Margaret Sullivan, declared that Silver "went against the grain" of the Times and never "fit into the Times culture" in the first place.

Sullivan began by noting that some Times staffers and managers are "disappointed" by Silver's decision to depart from his position as the Times' political stats analyst. "After all, his star power was significant. And his ability to drive traffic – especially among young, non-newspaper readers with his FiveThirtyEight blog – was unmatched, and probably will remain so," she wrote.
Sullivan writes fondly of her interactions with Silver and stressed that his behavior at the paper was professional and reflected well on the Times. However, Sullivan writes that many at the Grey Lady believe the paper will ultimately be better off with Silver gone.
"I don't think Nate Silver ever really fit into the Times culture and I think he was aware of that," Sullivan wrote.
RELATED: Nate Silver Leaving New York Times To Join Keith Olbermann At ESPN, According To Report
He was, in a word, disruptive. Much like the Brad Pitt character in the movie "Moneyball" disrupted the old model of how to scout baseball players, Nate disrupted the traditional model of how to cover politics.
Secondly, the methodology that Sliver used to analyze politics – namely, polls and past performance metrics – led the statistics guru to criticize punditry as "useless." Sullivan wrote that what Silver finds "useless" is "the kind of political journalism that the Times specializes in."
"A number of traditional and well-respected Times journalists disliked his work," she continues. "The first time I wrote about him I suggested that print readers should have the same access to his writing that online readers were getting. I was surprised to quickly hear by e-mail from three high-profile Times political journalists, criticizing him and his work. They were also tough on me for seeming to endorse what he wrote, since I was suggesting that it get more visibility."
The Times tried very hard to give him a lot of editorial help and a great platform. It bent over backward to do so, and this, too, disturbed some staff members. It was about to devote a significant number of staff positions to beefing up his presence into its own mini-department.
While Sullivan concludes that she is sad to see Silver go, she notes with some apprehension that many of the paper's high profile personalities welcome the move.
> >Follow Noah Rothman (@NoahCRothman) on Twitter
Have a tip we should know? tips@mediaite.com