NYT: Bush May Be Breaking Law by Not Declaring Candidacy While Fundraising Like One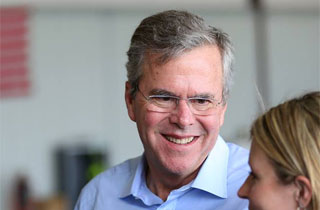 There may be a reason that Jeb Bush is still the only undeclared GOP presidential candidate whose campaign is pretty much a given: according to campaign finance experts, by not officially declaring his candidacy, he can raise a boatload of money without having it be subjected to campaign finance restrictions.
It's unclear how much Bush has gathered in the past few months, but the New York Times estimates that he's raised "tens of millions of dollars", all while coyly dancing around whether he's running for president (except for one slip-up). This is technically a problem due to the fact that federal law dictates that anyone who raises $5000 to run for president automatically becomes a candidate, and must start reporting their finances to the Federal Election Commission. The exception is if you're in the exploratory, "testing the waters" phase — in which case, you don't have to report money. (Yes, "testing the waters" is an actual legal term.)
And what can you do if you're only "testing the waters"? Why, you can use a super PAC to raise millions of dollars and coordinate with them at the same time, which is the one thing official candidates can't do with a super PAC. You can also get contributions that exceed the $2700 personal limit, which certainly won't help Bush considering his penchant for throwing $25,000-per-person PAC fundraisers. (Fun fact: a PAC does not have the same restrictions on it as an official campaign does, so, yeah.)
The Times notes that Bush seems to be engaging in complex "verbal jiujitsu" in order to say that he's still testing the waters, even though he's doing Normal Campaign Things like visiting Iowa and making speeches at factories about how Barack Obama sucks:
In an appearance Sunday on CBS's "Face the Nation," the host, Bob Schieffer, asked Mr. Bush bluntly whether he was violating the law by not declaring himself a candidate for the White House.

"No, of course not," Mr. Bush responded, appearing jarred by the question. "I would never do that."

Mr. Bush said he was "nearing the end of this journey of traveling and listening to people, garnering, trying to get a sense of whether my candidacy would be viable or not."

He added, "We're going to completely adhere to the law, for sure."

Mr. Schieffer sounded incredulous. "Now you're not telling me there's a possibility you may not run?" he asked.

Mr. Bush did not waver. "Look, I hope I — I hope I run, to be honest with you," he said. "I would like to run. But I haven't made the decision."
This begs the question: if a Jeb runs in the forest, and everyone knows he's running, but he doesn't make a sound, is it legal?
[Image via Jeb Bush/Facebook]
— —
>> Follow Tina Nguyen (@Tina_Nguyen) on Twitter
Have a tip we should know? tips@mediaite.com