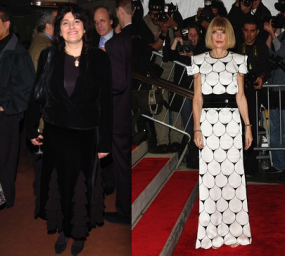 Today was not a good day at Conde Nast. It looks like upwards of 200 people will lose their jobs as a result of the shuttering of Gourmet, Cookie, Modern Bride, and Elegant Bride. The New York Observer reports that Pilar Guzmán, editor of Cookie and wife to Wired Media publisher Chris Mitchell, is out and that there may be a publisher shake-up over the next few days to make room for Nancy Berger Cardone, the publisher of Gourmet, and Carolyn Kremins, the publisher of Cookie, who "are both valued internally."
Still the shuttering of Gourmet remains to many the biggest shock; the 68 year old magazine is a staple in the Condé stable and enjoys a devoted following. The fate of its equally well-known editor Ruth Reichl is unknown right now, though considering the company plans to keep both the publishing and television arm of Gourmet active chances are they will find a place for her. That said, what does Reichl's precarious position say about the fate of Condé's other high profile editors?
We speculated earlier that the "cost and workforce reductions now underway throughout the company" mentioned in Chuck Townsend's memo suggested this was the beginning rather than the end of the McKinsey cuts (though apparently no more closures). No fashion titles were cut in this round, and we've heard speculation that this might be because much of the staffs of these titles are currently in Milan at the shows and that the cuts/shutterings might happen once they return.
So should Anna Wintour — or Graydon Carter for that matter! — be worried? Chances that Vogue will be shuttered, of course, are slim to none and same goes for Vanity Fair. However, the willingness of Condé to shutter a signature title like Gourmet and put into question the position of a bold-faced editor such a Reichl must certainly be seen as a warning shot across the corner -office bow of both Wintour and Carter. No one, apparently, is indispensable in the eyes of McKinsey.
Have a tip we should know? tips@mediaite.com