NYT Editor Baquet Criticizes Buzzfeed: 'We're Not in the Business of Publishing Things We Can't Stand By'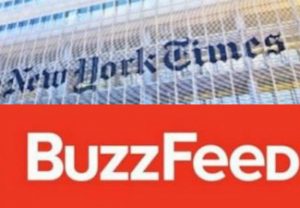 Buzzfeed's decision to publish a 35-page dossier containing unverified allegations about President-elect Donald Trump has come under criticism by personalities at all three of the major cable news networks. New York Times executive editor Dean Baquet, likewise, disagrees with Buzzfeed's decision to publish the allegations in full.
In a New York Times report published Wednesday, writers Sydney Ember and Michael M. Grynbaum called Buzzfeed's move to publish, "a break from typical journalistic practice." And the Times's executive editor, calling the allegations "totally unsubstantiated," said that he refused to publish a document that the Times couldn't stand behind.
"We, like others, investigated the allegations and haven't corroborated them, and we felt we're not in the business of publishing things we can't stand by," Baquet said.
Earlier, CNN's Jake Tapper slammed Buzzfeed for putting out the document.
Efforts today to conflate responsible reporting on IC presentation of 2 page annex with irresponsible posting of uncorroborated 35-pager.

— Jake Tapper (@jaketapper) January 11, 2017
Buzzfeed editor in chief Ben Smith responded to Tapper and CNN's subsequent critique with this statement to the Huffington Post's Michael Calderone:
Editor @BuzzFeedBen tells me they're "not going to participate in an attempt to divide the media against each other" following CNN criticism

— Michael Calderone (@mlcalderone) January 11, 2017
And he said BuzzFeed still stands "by the decision to publish a newsworthy
document." https://t.co/R9eGNuW98n

— Michael Calderone (@mlcalderone) January 11, 2017
[NYT image via Shutterstock.com/ BuzzFeed Logo via BuzzFeed]
–
Follow Joe DePaolo (@joe_depaolo) on Twitter
Have a tip we should know? [email protected]
Joe DePaolo - Senior Editor