Obama Campaign Releases New Footage From The Road We've Traveled Campaign Documentary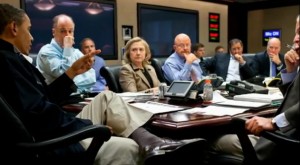 Supporters of President Obama's reelection campaign, and even non-fans like former Massachusetts Governor Mitt Romney, now have an even better look at the soon-to-be-released (March 15) The Road We've Traveled, a 17 minute campaign documentary by Academy Award™-winning director Davis Guggenheim. The campaign has released a new trailer for the film, but given its content, you might not hear Mitt Romney cracking wise about this one.
The trailer, entitled "Tough Decisions," focuses on the events surrounding the successful mission to kill Osama bin Laden. The spot features narration by Tom Hanks, plus the requisite evocative music and still footage.
It also features a brief clip of former President Bill Clinton, who says "He took the harder and more honorable path. When I saw what had happened, I thought to myself, I hope that's the call I would have made."
Romney, you may recall, asserted that "any president" would have done what President Obama did and greenlit the raid into Pakistan, even though in 20007, he told reporters that he opposed such a raid.
Here's the clip, from Obama For America, followed by the campaign's press release:
New Footage from "The Road We've Traveled" Includes Praise from Former President Bill Clinton

Chicago, IL — Obama for America today released new footage from "The Road We've Traveled" highlighting President Obama's decision to authorize the operation that killed Osama bin Laden. In the documentary, former President Bill Clinton states, "He took the harder, and the more honorable path. When I saw what had happened, I thought to myself, 'I hope that's the call I would've made.'" It was among the toughest decisions President Obama would make as Commander-in-Chief and a victory for our nation.

The film will be released in its entirety on Thursday, March 15, 2012. To watch the newly released footage, please click on the link: http://www.youtube.com/watch?v=yC6MYiwIQjo
Have a tip we should know? tips@mediaite.com