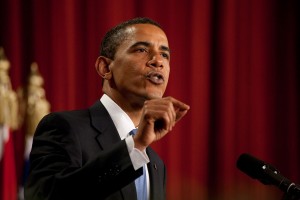 In an effort to "address the vicious cycle of poverty, criminality, and incarceration" in America, President Barack Obama is expected to unveil several measures designed to help former prisoners re-enter society, including an executive order that delays when employers can ask applicants about their criminal background.
Several states already "ban the box," referring to the section on many job applications that require candidates to identify crimes they have been found guilty of committing. According to advocates, this new measure would reduce discrimination during the hiring process. This executive order will apply to all federal employers, though private employers and state contractors can still require applicants to disclose their criminal history.
The move comes after 130,000 people — including Grammy award winner John Legend — signed a White House petition to "ban the box." In an op-ed on criminal justice reform, Legend wrote, "the inability of the formerly incarcerated to get a job after they have paid their debt perpetuates a cycle of crime and incarceration."
According to a press release from the White House, Obama will also focus on measures that help reformed criminals find education and housing after prison. The Department of Education and the Department of Housing and Urban Development released plans today to provide grants to communities that expand education for convicted criminals and ease restrictions on who can live in government assisted housing. The President will also promote his TechHire Initiative, which expands access to jobs in the technology sector for people with criminal backgrounds.
In September, Obama became the first standing president in history to visit a federal prison; a Vice documentary followed the President during his tour of the El Reno Federal Correctional Institution in Oklahoma. During that trip, Obama and five inmates discussed the criminal justice system and the struggles facing convicted criminals when the leave prison.
In a rare bipartisan push, the House of Representatives unveiled a criminal justice reform bill last month that would reduce sentencing for nonviolent drug offenders and lighten the controversial "three-strike" policy that sends offenders with three convictions to prison for life.
At a press conference for the Sentence Reform act of 2015, Judiciary Committee Chairman Bob Goodlatte told reporters, "we don't always agree on everything, but we do agree that criminal justice reform is not a liberal or conservative issue; it's an American issue."
—
[Image via Wikimedia commons]
Have a tip we should know? tips@mediaite.com