Obama Lost Majority Of Kentucky Counties To 'Uncommitted' In Last Night's Democratic Primary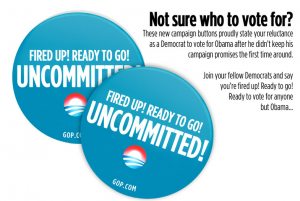 President Barack Obama didn't have such a strong night in the Democratic primaries last night. Running as an incumbent president, unopposed, Obama did win Kentucky — but interestingly, lost 42 percent of the vote to "Uncommitted." In Arkansas, opponent John Wolfe also brought in about 42 percent.
Obama received 58 percent of the statewide vote in Kentucky, but lost in 67 of the state's 120 counties. That's right, more than half. A strong message from the state's Democrats — but Louisville's Courier-Journal notes that Obama has, unsurprisingly, never been embraced by the state:
Of course, we know that Obama has not been a popular figure in Kentucky or the Appalachian region for a variety of reasons – ideological (he's perceived as liberal), political (he's frequently criticized as anti-coal) and personal (too many factors to list in this last category).
Not to mention, turnout was low (actual supporters aren't likely to show for a rather pointless vote), and Kentucky and Arkansas aren't going to swing for Obama in November anyway. Nonetheless, The Atlantic's Dashiell Bennett remarked,
But it's still an embarrassment for the White House at a time when Obama needs all the good news he can get. With Mitt Romney's poll numbers are growing and the job growth slowing, Obama needs a big win to rally the troops and get back some of that enthusiasm that his supporters seems to have lost since 2008.
If you, too, are a Democrat reluctant to vote for the president, the GOP is gleefully offering you a button to declare your support for "Uncommitted."
(H/T The Atlantic, Courier-Journal)
Have a tip we should know? tips@mediaite.com