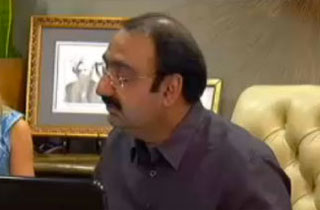 Well, that's fun: an Obama megadonor, who donated over a million dollars to an Obama PAC in 2012 and dozens of other Democrat donors, was just indicted on a smattering of charges, including fraud (for running a multimillion-dollar kickback scheme), and, uh, manslaughter.
Kareem Ahmed, the CEO of Landmark Medical Management, was indicted by a California grand jury along with 15 of his associates. In the indictment, obtained by Talking Points Memo, Ahmed is accused of "developing topical cream formulas 'based on the profitability of the ingredients,' and then giving doctors who treated workers' compensation patients illegal financial incentives to prescribe the creams." (There's also some insurance fraud charges thrown into the mix, too.) Not much is known about the manslaughter charge, other than that he and two colleagues are being charged for the accidental death of a minor.
And this is where the campaign finance comes in: in 2012, Ahmed began giving enormous political donations to Democratic causes, with over $1 million given to the pro-Obama super PAC Priorities USA Action, as well as "hundreds of thousands" of dollars to Democrat candidates in 2012 and 2013. Like most megadonors across the spectrum, he was likely trying to buy influence: a 2012 interview with TPM quoted him as saying he was best friends with Rep. Nancy Pelosi (D-CA), and often hung out with prominent Democrat politicians.
A spokesman for Ahmed's company called the charges "meritless" and said that Ahmed would be exonerated.
[TPM]
[Image via Landmark Medical Management]
—
>> Follow Tina Nguyen (@Tina_Nguyen) on Twitter
Have a tip we should know? tips@mediaite.com