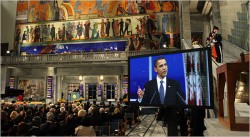 It's hard to imagine worse timing. President Obama flew to Norway today (according to Mark Knoller he is only the second president to do so) to accept his Nobel Peace Prize, nine days after announcing to the nation that he was sending 30,000 additional troops to Afghanistan. Has there ever been a more reluctant Nobel Prize recipient? And yet by most accounts Obama managed to pull it off.
The initial, general consensus seems to be that Obama exceeded expectations and that his "sober" acceptance speech — which required him to walk a very tricky tightrope — will please the conservatives as well as the liberals as much as any speech by the president can. That said, for a Nobel Peace Prize speech the president spoke an awful lot about war. In fact, he mentioned 'war' 44 times during the speech — a 'just war' appears to be the main takeaway. To contrast he mentioned 'peace' 29 times. Sound like a strange tone to strike whilst accepting a peace prize? Well, maybe just imagine if he had he not chosen to address the elephant in the room. Says the Atlantic's James Fallows:
As with his Philadelphia speech, he made the speech about the most awkward issue of the moment, rather than trying to avoid it. (In Philadelphia, the racially inflammatory rhetoric of Rev. Jeremiah Wright; in Oslo, his predicament as a war president getting a peace price.) I don't think he provided even a five-second passage of the speech that could be isolated by U.S. opponents to show that he was "apologizing" for America.
Time's Joe Klein thinks this passage from the speech is particularly worth noting as there is "something remarkably gutsy about using Martin Luther King Jr. as a foil before the Nobel Committee":
I make this statement mindful of what Martin Luther King Jr. said in this same ceremony years ago: "Violence never brings permanent peace. It solves no social problem: it merely creates new and more complicated ones." As someone who stands here as a direct consequence of Dr. King's life work, I am living testimony to the moral force of non-violence. I know there's nothing weak — nothing passive — nothing naïve — in the creed and lives of Gandhi and King.

But as a head of state sworn to protect and defend my nation, I cannot be guided by their examples alone. I face the world as it is, and cannot stand idle in the face of threats to the American people. For make no mistake: Evil does exist in the world. A non-violent movement could not have halted Hitler's armies. Negotiations cannot convince al Qaeda's leaders to lay down their arms. To say that force may sometimes be necessary is not a call to cynicism — it is a recognition of history; the imperfections of man and the limits of reason.
Meanwhile Politico's Ben Smith felt Obama used the opportunity to "to sell his foreign policy at home and abroad without public reference to human rights, viewed by this White House as cheap — as used by Bush — and potentially counterproductive." You can read the full text of the speech here and once we get video I will update. (Update: video below)

Have a tip we should know? tips@mediaite.com