Obama Pens Heartfelt TIME Magazine Piece Praising One Of The Staunchest Conservative Senators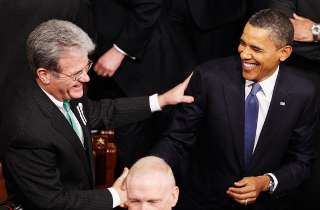 2013's TIME list of the most influential people includes a well-known conservative senator who is often referred to as "Dr. No" for his consistent votes against anything he deems unconstitutional: Sen. Tom Coburn (R-OK). His inclusion in the list itself is somewhat surprising, but the real story is that his blurb was written by… none other than President Obama who, in many ways, is the exact antithesis of the Oklahoman senator.

"Tom Coburn and I don't always agree on the issues," the president began his write-up. "But after we entered the Senate at the same time, our wives, Michelle and Carolyn, hit it off at an orientation dinner. Pretty soon, we did too. Since then, we've bonded over family and faith. And we've harnessed our friendship and mutual respect to find places where we can agree and work together to move this country forward."
Obama went on to praise Coburn for his work in making government "more transparent and more accountable to the American people" while working with Democrats to "cut down on earmarks," "reduce wasteful spending" and "close tax loopholes that benefit only the well-off and well connected."
"The people of Oklahoma are lucky to have someone like Tom representing them in Washington — someone who speaks his mind, sticks to his principles and is committed to the people he was elected to serve," the president wrote.
He concluded with an anecdote reflecting upon the pair's admiration for one another: "After I took office, Tom received dozens of letters from Oklahomans complaining that we looked too close on TV. Tom's response was 'How better to influence somebody than to love them?' Each of us still hopes the other will see the light. But in the meantime, we'll settle for being friends."
While some may take issue with Obama's claims that he has actually worked to "reduce wasteful spending" with someone like Coburn, this piece reflects well on both individuals. Rarely in politics do we see people from the opposite ends of the spectrum treat each other so graciously, in such a public forum, and with such genuine emotions. Kudos to them both.
[h/t Radley Balko]
— —
>> Follow Andrew Kirell (@AndrewKirell) on Twitter
Have a tip we should know? tips@mediaite.com