Obamacare 'Poster Boy' Chad Henderson's Father Contradicts Elements of His Son's Story (UPDATED)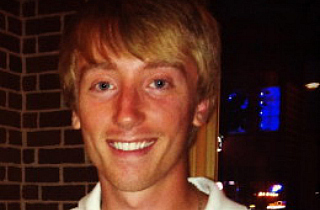 Thursday afternoon we reported that 21-year-old student Chad Henderson had become the media's "poster boy" for Obamacare's federally-run health insurance exchanges. A Reason interview with Chad's father, however, seemingly contradicts key details of his son's widely-circulated story.
After the Georgia-based student claimed he successfully enrolled himself and his father for Obamacare, via healthcare.gov, Henderson's story was quickly picked up by most major news outlets. But after speaking with Chad's father Bill, Reason's Peter Suderman concluded:
Chad father's Bill contradicted virtually every major detail of the story the media can't get enough of. What's more, some of the details that Chad has released are also at odds with published rate schedules and how Obamacare officials say the enrollment system works.
According to Bill Henderson, neither he nor his son have enrolled for any plan yet, contradicting Chad's claim that his father chose a $250/month subsidized plan, and that he himself selected an unsubsidized private insurance plan for $175 a month.
Despite his son's assertion that the father qualified and signed up for a subsidized plan, Bill told Reason that he does not yet know whether he will be eligible for such subsidies:
"I'm hoping so," he told me. "It's a possibility." As of yet, however, the pair had not picked a plan or completed enrollment. But he hoped they would shortly. "We're going to be enrolling, and looking at it, you know, looking over everything. So we're going to be deciding on what we're going to do very soon."
Suderman goes on to note other contradictory elements:
Other details from Chad's story were also difficult to verify. He said his premium was unsubsidized, and cost around $175 a month for the cheapest Bronze coverage plan available. He told the Chattanooga Times Free Press that he got his coverage through Blue Cross Blue Shield. But the cheapest unsubsidized Bronze exchange plan at Blue Cross Blue Shield's online Quick Quote system offers for a 21-year-old in Flintstone, Georgia is $225.09 a month.

Additionally, Chad could not have purchased a separate plan for his father from his own login to HealthCare.gov, the website for the federal exchanges. A customer assistance representative on HealthCare.gov's LiveChat system told me that purchasing separate plans for a son and a father in Georgia would require two separate logins. Which means that Chad would have had to successfully create two different accounts, and complete enrollment twice, at a time when almost no one was able to get through on the system.
"Chad Henderson's story was picked up by the national media because of how difficult it was to find individual stories of successful enrollment in the federal health exchanges during the initial days of enrollment," Suderman concluded. "It appears that reporters may have to keep looking."
Read the full report here.
UPDATE: The Washington Post's Sarah Kliff spoke with Chad by phone, asking him to address his father's remarks. Read below:
Sarah Kliff: So your dad says you haven't purchased health insurance.

Chad Henderson: Here's my response. Most reporters, I'm not calling anyone out especially you, they haven't had access to the web site. They weren't very clear as to how the process went. Most people have no understanding that it's a two step process. One is you fill out an application. It sends you a notification received successfully.

The next step is comparing the prices, comparing all the plans. And that's when you purchase the plan. I said I enrolled in the marketplace. I never said I chose a specific plan. But the number I gave you, the $175 or $200 or whatever, that is the plan I am choosing. My dad is choosing a different plan. So, enrollment meant that my application was sent and approved. That's what I meant by enrollment. I have not purchased a specific plan. That's what's confusing people.
My dad was right. I have chosen mine. He hasn't chosen his yet.

Sarah Kliff: So let me make sure I understand things right here. You went through the part of the website where you entered in your information and found out what you qualified for, and that's done. And you got to the part where you can compare plans, but you have not purchased a plan?

Chad Henderson: We have not purchased a specific.The application has information and once you submit it, it reviews eligibility. Obviously I'm not eligible for Medicaid because our governor isn't expanding it. And that's what I meant by enrollment. I had assumed that I never said I purchased a plan or enrolled in marketplace. I'm not backing down on my comments. I have not misled anyone.

Sarah Kliff: I think where a lot of us got confused is you said you had enrolled in a plan when you haven't purchased a health plan. You told us the amount of the premium you were going to pay.

Chad Henderson: I understand that. I was giving you guys a number as to what I'm choosing.
[image via Facebook]
— —
>> Follow Andrew Kirell (@AndrewKirell) on Twitter
Have a tip we should know? tips@mediaite.com