Obamacare Website Czar Jeff Zients: Healthcare.gov a 'Long Way From Where It Needs to Be'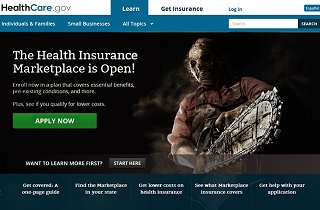 On the heels of President Obama's blockbuster interview with NBC News' Chuck Todd, in which the President apologized for cancellations and promised a smooth website experience for most by the end of November, the stakes for completing the overhaul of Healthcare.gov are extremely high. On Friday, that bet began to look a little shaky, as Jeffrey Zients, the man tapped to lead the "tech surge" to fix the beleaguered Obamacare website, told reporters on a conference call that the site is "a long way from where it needs to be."
As the President noted in his interview with Todd, much of the anger and consternation around those receiving cancellation notices stems from an inability to get accurate information on their new rates, as well as anxiety that they'll be able to complete the enrollment process in time. While the administration has promised to look into "administrative fixes" to the cancellation issue, that November 30 deadline for a functioning website looms large in the equation. "I'm confident that it will be even better by November 30th," the President told Todd, "and that the majority of people are going to be able to get on there. They're going to be able to enroll. They're going to be able to apply. And they're going to get a good deal– a better deal than they've got right now when it comes to buying health insurance."
Zients, already not prone to confidence-building oratory, was less than encouraging on Friday's conference call. From Reuters' David Morgan:
The Obama administration's HealthCare.gov adviser Jeffrey Zeints said on Friday that the trouble-plagued federal healthcare website is improving, but that higher volumes of visitors are exposing new capacity and software issues.

In a conference call with reporters, Zeints said progress this week has been marred by roadblocks. He described HealthCare.gov as being "a long way from where it needs to be."
It's possible that Zients is just not the spokesman type, and doesn't make an effort to attenuate his assessments to the public's expectations, because this is definitely not what anyone wants to hear at this point. The President and the White House press office have consistently declined to move the goalposts on that November 30 date.
Have a tip we should know? tips@mediaite.com