Occupy DC Protester's 'Challenge Authority' Rant Shut Down By…Occupy Protester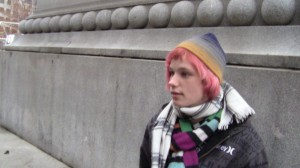 On my first visit to an "Occupy" encampment on Monday, I strolled around the sedate Occupy DC camp in McPherson Square, trying to get a feel for the thing. When I arrived at the McPherson Square camp, it was very quiet and still, including the conspicuous police presence at its perimeter. There were a few Occupiers playing chess, and many others cleaning up the park. One was filling water jugs from a water fountain that had been ingeniously rigged with bamboo for that purpose.
I stopped to chat with a few of the occupiers who were busy breaking down cardboard, and took a few pictures, but nothing much was happening. Suddenly, though, a pink-haired protester who bore a strinking resemblance to Milla Jovovich began shouting over a megaphone for people to "grab a sign, protest something, challenge authority!"
At that point, another protester came and took the megaphone away from her, a fun bit of Occupy Irony. As is often the case, though, bits and bytes like this don't tell the real story.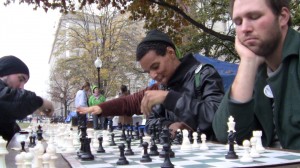 The incident caught my attention, so I decided to interview the young woman, who wasn't actually Milla Jovovich, but rather, a former government worker named Mary Mork. The 24 year-old North Carolina native told me that she quit a six-figure job in May to become a sort of nomadic crusader for the homeless. She founded the Occupy Dayton (Ohio) camp, and says she has been to about eight Occupy encampments in all.
I asked her to recount the bit about the megaphone, because I missed taping it, but also to share some of her experiences at the Occupy camps. Between Mary and unofficial Occupy DC spokesman Bryan Meister, an undertold story emerged.
While so much of the economic discussion these days is fixed around the woes of the middle class, there are millions of homeless people whose suffering makes even the worst off middle-classer look like Warren Buffett by comparison. Bryan and Mary both talked about the recent protest at DC's Franklin School, a city-owned former school that was a homeless shelter until 2008. It now sits empty, waiting to be turned into a private hotel, even as homeless people sleep in the streets blocks from the White House.
The untold story of these Occupy protests is that, even as they have become lightning rods for middle class angst, they have also been a resource for the homeless populations of these cities. Yesterday, I saw the Occupy camp serve lunch to about 300 people, and according to the cook, about half of them were indigenous homeless people.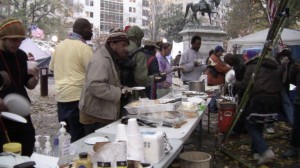 The irony is that, according to Mary and Bryan, much of the bad press that has attended the Occupy movement, reports of crime and unsanitary conditions, have to do with the homeless people they're "helping to move beyond that."
The fact that the Occupy movement is being tarred over the actions of the troubled individuals they're trying to help, Bryan says, "Strikes me as a low blow."
Here are portions of my interview with Mary and Bryan. More to come.
Have a tip we should know? tips@mediaite.com