Official Who Conned EPA Out of $1M Details How He Convinced Everyone He Was a Spy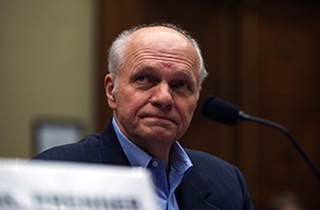 The deposition of John Beale, the EPA official who conned the agency out almost $1 million by claiming to by a spy, was released Wednesday, and in his testimony he admits to propagating the "charade" that he worked for the CIA, a "fantasy" that even extended to lying to his wife.
Beale said the claims of working at Langley started in 2001 as a joke; he traveled internationally so much for EPA work that coworkers remarked that he must be in the employ of the CIA. "People would joke about it and I would deny it or I would laugh it off or I would say something like, well, if I told you anything I'd have to kill you," he said in his testimony.
So when he began shirking his duties at the agency, the CIA story was already primed. (Usually working for the CIA is the thing you need to cover up, not the other around, but whatevs.) "I was starting to take time off, to steal my time from the government," he told investigators. "I think that I felt that I needed to have some excuse for that…I took advantage of the rumors, but the rumors didn't inspire me or impel me to begin the fraud."
Over the course of a decade, Beale used the CIA story to book vacations on the agency's dime, or sometimes to claim to be in Pakistan bailing out compromised agents when he was in fact in Cape Cad reading the paper. He was only caught when EPA administrator Gina McCarthy (whom he outearned, natch) noticed he was continuing to receive a paycheck after he retired.
Beale said his years at the agency inoculated him from suspicions, and he defended the EPA's lack of curiosity about his long absences, one of which lasted for 18 months. "Because I had that track record and I had earned that trust, I abused that trust," he said. "I think it very understandable that people didn't see it at first, you know?" Beale also praised McCarthy, to whom he'd been lying throughout the duration of the con.
Beale pled guilty last fall to $900,000 in fraud. In addition to thirty-two months in prison, he was ordered to repay the money. His wife, whom he also convinced of the CIA story, will not be helping him do so.
[h/t The Hill / Politico]
[Image via screengrab]
——
>> Follow Evan McMurry (@evanmcmurry) on Twitter
Have a tip we should know? tips@mediaite.com