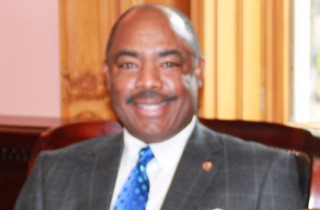 An Ohio state representative and Democrat is suing the state Democratic Party, charging that he was discriminated against because he wouldn't join the Ohio Legislative Black Caucus. He accuses them of making up facts in attacking him to support his primary opponent this year.
In his lawsuit, State Rep. John Barnes claims he was punished for not joining the Ohio Legislative Black Caucus. He explains he didn't see any particular reason he needed to join and "wanted to be treated as an individual rather than as a member of a presumed monolithic block of votes based upon his skin color."
Barnes served in the state legislature from 1999 to 2002, and didn't return until winning the election in the race for his old seat in 2010. After that election, Barnes says he was told he would not be able to speak directly with House Democratic Leader Armond Budish, he would have to go through the leader of the black caucus. And Barnes specifically points out in his lawsuit that white Democrats are able to speak with Budish, no problem.
And speaking of Budish, Barnes also makes the assertion that the then-leader of the black caucus demanded Budish give $200,000 to the group in exchange for their official support of him as House minority leader.
Barnes held a press conference today, in which he decried Ohio Democratic Party chairman Chris Redfern for "racist" actions and even went so far as to speak of a "plantation-style management" of black legislators in the state.
[h/t Columbus Dispatch]
[image via Ohio House]
— —
Follow Josh Feldman on Twitter: @feldmaniac
Have a tip we should know? [email protected]
Josh Feldman - Senior Editor