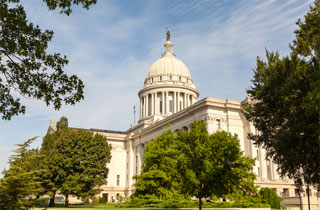 The Oklahoma House of Representatives has voted to pass a bill that would essentially end the state's marriage license dispensation, and according to its author, is supposed to somehow stop same-sex marriage from bothering county clerks opposed to such shenanigans while also fulfilling an inevitable Supreme Court strike-down against same-sex marriage bans.
The Tulsa World reports that HB 1125, authored by State Representative Todd Russ (R), would prevent people from receiving state marriage licenses without being married in a ceremony first. Instead, married couples will receive "certificates of marriage," or affidavits of common law marriage, with the county clerks in order to receive the legal benefits of marriage.
But according to The Oklahoman, the legal fate of those marriages will now rest in the hands of the officiant:
His bill would leave it up to clergy and other individuals who are authorized to perform marriages to determine whether legal requirements have been met to issue marriage certificates. The role of court clerks would be reduced to filing the marriage certificates or affidavits of common law marriage.

The bill, as drafted, also would eliminate from Oklahoma law the words that define marriage as being "with a person of the opposite sex."
Back in 2004, the Oklahoma legislature voted on a constitutional amendment banning gay marriage, a ban that was overturned in 2014 by the Tenth District Court. (The Supreme Court declined to review Oklahoma's specific challenge of the decision, but will probably apply their ruling in the upcoming gay marriage case to Oklahoma.) And according to Russ, his bill, was meant to remove the state from marriage, by making it so that clerks opposed to same-sex marriage would not be forced to perform weddings, while still allowing couples the legal right of marriage. "I'm not picking a fight with them," he said of LGBT activists. As Reason described his position:
While it is true that the legislation is a direct response to the federal courts striking down Oklahoma's ban on same-sex marriage recognition and the likelihood that the Supreme Court will uphold those rulings this summer, Russ said his legislation is intended to take the state out of the fight, not to perpetuate the conflict. He said Oklahomans likely wouldn't even notice a difference in the legal status of their relationships under his bill.
Its critics, however, believe that the bill would open a "Pandora's box" of awfulness, from allowing polygamists, bigamists, and minors to be married, to possibly trampling on the federal protections guaranteed by a state recognizing marriage.
"This legislation puts all couples who plan to marry in Oklahoma at risk of being denied hundreds of federal legal rights and protections, if it were to become law," Troy Stevenson, executive director of Freedom Oklahoma, told The Oklahoman. "The federal government and other states will not be required to acknowledge these proposed 'marriage certificates.' This legislation will only result in mass confusion from clerks' offices to courtrooms around the nation — while putting Oklahoma families at risk."
The bill, which passed 67-24 with 10 members abstaining, will head to the Senate.
[h/t Patheos]
[Image via Shutterstock.com]
—
>> Follow Tina Nguyen (@Tina_Nguyen) on Twitter
Have a tip we should know? tips@mediaite.com