Oklahoma Newspaper Losing Subscribers and Advertisers in Wake of Hillary Endorsement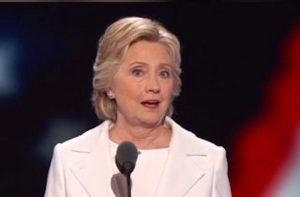 A small Oklahoma newspaper has suffered from a loss of subscribers and advertisers in the weeks since its editorial board endorsed Democratic presidential nominee Hillary Clinton for president.
The Enid News & Eagle joined a number of other historically conservative local newspapers this year in bucking the tradition of endorsing the Republican candidate and picking Clinton over Donald Trump. When the paper published the endorsement in early October, it was the first time since the paper was founded in 1893 that it endorsed a Democrat in a presidential race.
However, as the New York Times reported, many in the sleepy town of 52,000 haven't forgiven the News & Eagle for the decision:
The News & Eagle, with a circulation of 10,000, lost 162 subscribers who canceled the paper. Eleven advertisers pulled their ads, including a funeral home that had a sizable account. Someone stuck a "Crooked Hillary" bumper sticker on the glass doors of the paper's downtown office. A man left a late-night message on the publisher's voice mail, expressing his hope that readers would deliver, to put it delicately, a burning sack of steaming excrement to the paper.
Despite other Republican-leaning papers not really seeing much of a negative fallout with their readerships over their Clinton endorsements, the News & Eagle's audience hasn't been as forgiving. The town's ex-mayor withdrew from an event sponsored by the paper meant to honor community leaders. They've also received a large number of calls, letters, and emails criticizing the endorsement.
While the paper stands by the choice to call on Clinton to be elected, it is doing its best to limit the damage in one the reddest parts of the country:
One reader who stopped taking the paper said it was still trying to woo him back by delivering an occasional copy to his doorstep. The executive editor, Rob Collins, has worked the phones, talking to subscribers who had canceled or threatened to do so.
A senior writer for the paper also described an incident when a man confronted him in a steakhouse over the endorsement, threatening to beat him up. While the reporter was able to eat without physical violence occurring, he did say that it shows that there is "almost a sense of betrayal" felt by many citizens in the town regarding the Clinton pick.
[image via screengrab]
–
Follow Justin Baragona on Twitter: @justinbaragona
Have a tip we should know? tips@mediaite.com