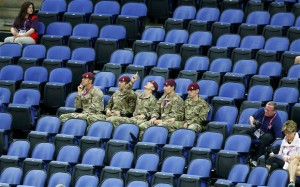 Despite tickets for the Olympics being sold out, over 120,000 seats in the London Olympic stadium were empty over the weekend. According to the Telegraph, fans were angry seeing empty seats after spending hours to buy tickets, and now the organizing committee is going to resell unused tickets for British residents to fill up the stadium.
RELATED: NBC Faces Wave Of Social Media Criticism For Tape-Delayed Olympics Coverage, Spotty Live Stream
In an attempt to quell the anger surrounding the empty seats yesterday, Olympic organizers announced that British soldiers and schoolchildren were getting free tickets to watch the events. The BBC explains why there have been so many empty seats since the games started.
Eight per cent of tickets have been made available to sponsors and 75% per cent to the public. Another 12% go to National Olympic Committees and 5% to the Olympic family – people like IOC officials and the media.

The gaps are due to people from a range of those different groups not filling them, the IOC's Mark Adams has said.

"It doesn't appear to be a sponsor issue. Sponsors are turning up," Seb Coe said on Sunday. Locog has looked at who didn't turn up on Saturday and it was not predominantly the Games' corporate funders.
The organizers are attempting to accomodate not just the fans, but the families of the athletes, who, according to The New York Post, have been directed to will-call lines after being stuck on long lines that caused them to miss their children compete in swimming events.
A spokeswoman for the London organizing committee said that 3000 extra tickets had been sold today, but the controversy has already been so widespread, it has even caught the eye of Prime Minister David Cameron.
Cameron says he shares people's frustration at seeing empty seats in the London Olympics venues, and that "we can do better."

Cameron tells broadcaster ITV that Olympic organizers need to "make sure more people get to see more games and also that there are fewer empty seats."

He says the organizing committee is "on track to do that."
Reuters adds that there were noticeably empty sections of the stadium during the volleyball and men's weightlifting events, and "only about 15 percent of the accredited seats at fencing had been taken."
[Image via]
Have a tip we should know? tips@mediaite.com
Josh Feldman - Senior Editor