'One Serving of Impeachment, Please': Twitter Reacts to Reports That Trump Asked Comey to Drop Flynn Investigation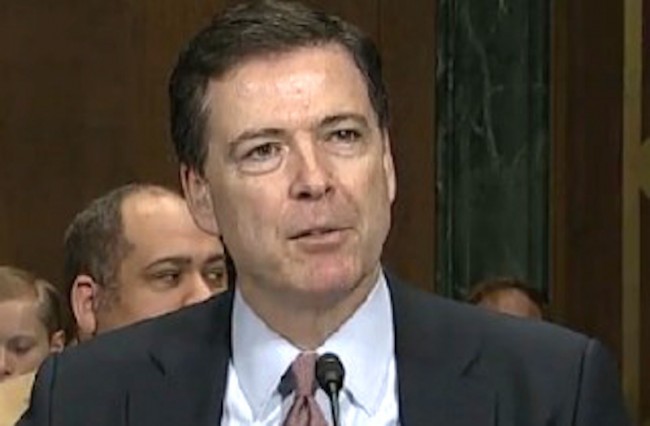 We have a new report on behavior from the president and you know what that means! Time for a Twitter roundup.
First, let's recap: Donald Trump fired FBI director James Comey last week in a move that shocked just about everyone and led to widespread assumptions that he'd done it to prevent the FBI from digging deeper into his possible ties to Russia. Then, after reports emerged that the president had demanded Comey's loyalty during a dinner, he tweeted that Comey should hope there were no "tapes" of their private conversations.
We still don't know if there are "tapes," but we do have it on good authority — as of a few minutes ago — that Comey kept detailed notes about his meetings with the former reality television icon. In some of those notes, apparently, Comey indicated that Trump asked him to drop the investigation into former National Security Advisor Mike Flynn, who was let go because of — you remember! — possible ties to Russia.
Okay, all caught up? Roll that beautiful bean outrage footage:
Anyone else think Netflix bought the news media and is releasing the whole season all at once?

— Peter A. Shulman (@pashulman) May 16, 2017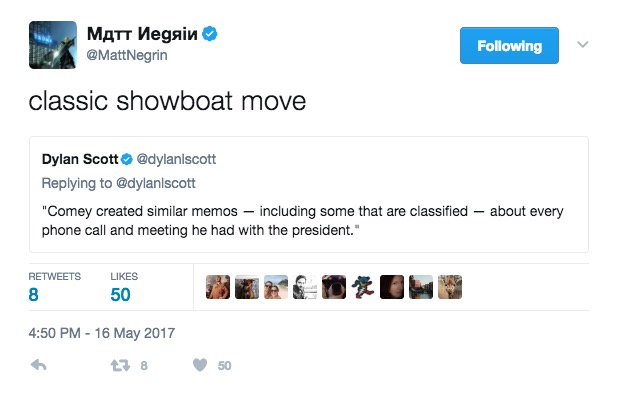 If Trump follows the Watergate script any more precisely, the Nixon library will be able to sue him for plagiarism.

— Kevin M. Kruse (@KevinMKruse) May 16, 2017
the trump administration trying to do literally anything pic.twitter.com/fAgOMydIxV

— shrill ???? (@theshrillest) May 16, 2017
@theshrillest pic.twitter.com/xYAh75KEOf

— ryan cooper (@ryanlcooper) May 16, 2017
@theshrillest pic.twitter.com/sGFiNwbViB

— Jaime Fuller (@j_fuller) May 16, 2017
@theshrillest Trump administration deftly containing leaks pic.twitter.com/DMFZhaD1vj

— Your Trusted Wizard (@Choplogik) May 16, 2017
@theshrillest pic.twitter.com/v4qBxDUaY1

— Greg Foster (@Johnny_UT) May 16, 2017
@theshrillest pic.twitter.com/6uG2jIMUKj

— Jarred Schiff (@schiffhappens) May 16, 2017
James Comey: pic.twitter.com/eRo0iiUzQM

— Saeed Jones (@theferocity) May 16, 2017
Remember in Interstellar when they land on a planet where years take place in what seems like a single day? Welcome to our news cycle

— Jacob Harris (@harrisj) May 16, 2017
I'll have one serving of impeachment, please! #Comey pic.twitter.com/LpJ3GflvbV

— Brittany Packnett (@MsPackyetti) May 16, 2017
Imagine being the poor bastard being thrust out there by the White House right now to say something your boss will undercut tomorrow.

— PopehatFewExceptions (@Popehat) May 16, 2017
Be seeing you. ?? @realDonaldTrump @POTUS pic.twitter.com/WRl2gmgOwL

— Vic Berger IV (@VicBergerIV) May 16, 2017
Like Nixon, but with thumbs up instead of peace signs. pic.twitter.com/0iKzCVtoPf

— Mark Joyella (@standupkid) May 16, 2017
It's only Tuesday, folks.
[image: screengrab]
Have a tip we should know? tips@mediaite.com