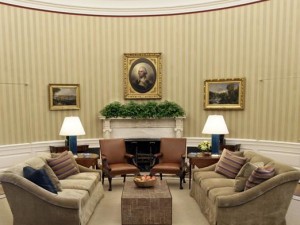 Why is President Obama redecorating the Oval Office when the nation's economy is so bad? Is the question I am anticipating at least one or two cablers to run with today. Whilst on vacation Obama apparently had the Oval Office redone. He also apparently is anticipating that question. Robert Gibbs told Ann Compton of ABC that:
"Some very modest changes not paid for at taxpayer expense…As many presidents want to put their own little stamp on the office they spend so much time in, the president has done that in his own very modest way."
And just to be extra clear, the White House says the cost of the redesign was "in line with the amount spent by Presidents Clinton and George W. Bush on the redesigns of their Oval Office."
So what's the big change? Former First Lady Laura Bush's ("expensive") sunburst carpet has been replaced with one that "features a traditional presidential seal in the center, with multiple quotes from former presidents, and one by Martin Luther King are around the border." So who made the cut?
Courtesy of Ben Smith, here are the quotes:
"The Only Thing We Have to Fear is Fear Itself" – President Franklin D. Roosevelt
"The Arc of the Moral Universe is Long, But it Bends Towards Justice" – Martin Luther King Jr.
"Government of the People, By the People, For the People" – President Abraham Lincoln
"No Problem of Human Destiny is Beyond Human Beings" – President John F. Kennedy
"The Welfare of Each of Us is Dependent Fundamentally Upon the Welfare of All of Us" – President Theodore Roosevelt
Partisan count: Two Democrat Presidents and Two Republicans (of the old-school variety) and Martin Luther King. Look for that last addition of Teddy Roosevelt and the welfare quote to feature prominently on Glenn Beck at some point as further proof Obama is a secret progressive with nefarious intentions.
Have a tip we should know? tips@mediaite.com