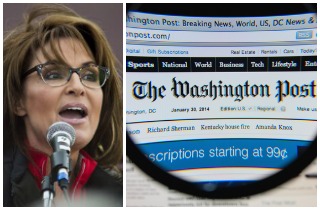 Sarah Palin took to Facebook today to rail against The Washington Post for not covering President Obama's scandals with the same journalistic tenacity as they did with Richard Nixon and the Watergate scandal all those many years ago. Palin called them all "a bunch of wusses" for not being the least bit interested in challenging this president.
Palin writes, "The public knows of our current president's incompetence, denials, and cover-ups, but would be well served if we could count on your resources to dig deep for truth in all matters pertaining to Team Obama."
She contrasts how the Post aggressively kept the pressure on the Nixon White House with how they're "virtually ignored" what she frames as Obama's equivalent of the 18.5 missing minutes: "1.2 million minutes of deleted communications" by the IRS.
Palin takes note of how the president has committed "impeachable offenses" (impeachment, of course, is a cause Palin has aligned herself with in recent weeks), and challenges the Post to show some integrity.
I challenge you to lift a finger and help protect democracy, allow justice for all, and ensure domestic tranquility by doing your job reporting current corrupt events fairly. If not, you prove yourselves incompetent and in bed with Obama, not caring one iota about media integrity.

Those running the Washington Post's show now, compared to those during the Nixon era, are too afraid of being uninvited to the permanent political class' cocktail parties and petty gossip fests, making you all a bunch of wusses. I challenge you to get to work.
Palin actually got called out in the Post recently when religion columnist Sally Quinn said that Palin is "the epitome of self-centerednewss" and suggested "a long, silent retreat for her."
You can read Palin's full Facebook post HERE.
[image via Shutterstock]
— —
Follow Josh Feldman on Twitter: @feldmaniac
Have a tip we should know? tips@mediaite.com
Josh Feldman - Senior Editor