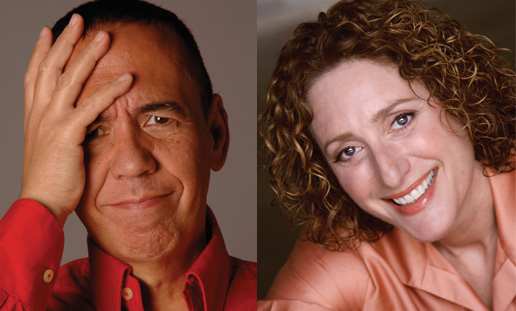 Who: Gilbert Gottfried, interviewed by Judy Gold
What: "Gilbert Gottfried with Judy Gold"
Where: 92 Y
When: November 7, 2011
Thumbs: Up, in a way that offends someone
Judy Gold took the stage with questions about Gilbert Gottfried's childhood, career, and life. The mostly older crowd, though, was there for the "f-cks." Gottfried told stories from his new book, "Rubber Balls and Liquor" (read it again, you'll get it), about his first jokes, his grandmother, dropping out of high school and his first performances; but he was at his best and the crowd at their happiest when he was looser, riffing and, working blue.
After going through his biography, the conversation turned to Gottfried's controversies: his censored jokes about Pee Wee Herman's masturbation at the 1991 Emmys, his 9/11 jokes at the Hugh Hefner Friar's Club Roast, and, most recently, his Twitter jokes about the Japanese tsunami. Gold asked Gottfried if he had any regrets, or if anything was off limits. Gottfried answered both with an immediate and resounding "no," and, as if to prove the point, retold each controversial joke for the audience's sake. The audience simultaneously cringed and laughed.
Gottfried has embraced his controversies in persona and interviews to the point where his outlandish behavior has become part of his cachet. The audience was delightfully horrified at his Holocaust jokes, each different synonym he used for female genitalia, and his reporting of how long his masturbation sessions last. Fittingly, for the last question of the night, an older woman asked him to tell the "Aristocrats" joke (NSFW). To uproarious laughter, Gottfried giddily and intricately detailed exactly who was filling up what crevice, and in so doing, Gottfried filled his own niche, providing the faux outrage the audience craved.
What They Said
"The people who get the joke don't need an explanation. Those who don't get it won't understand the explanation."
– Gilbert Gottfried explains his lack of explanations
"I do realize the tragedy. That's where the jokes come from!"
– Gilbert Gottfried views comedy as tragedy's roommate (the kind who sticks out his tongue as his roommate cries)
"That was the first time I ever jerked off to the Diary of Anne Frank"
– Gilbert Gottfried, on Natalie Portman. We did not ask him when the second time was
"It was up between me and Liam Neeson… Of course I, at the time, was up for Schindler's List"
– Gilbert Gottfried dishes on how backroom Hollywood dealings go down
What We Thought
Judy Gold was well prepared as interviewer but we thought she could have kept the format looser. She mostly eschewed segues to move forward chronologically. Interviews don't have to be in life order, and it was fun to see Gold and Gottfried banter. We would have been happy to see more of that.
Gottfried's points about media were spot on. He railed against the hypocrisy of news anchors telling him privately how much they enjoyed his jokes and denouncing them publicly on camera. He also pointed out how many more people see his "controversial" jokes once they're re-aired on the news and online.
The discussion about Gottfried's time on Hollywood Squares ended up touching on one of our favorite game show clips of all time. It was great to be reminded of it:
PANEL RULES!
Some audience behavior seems to repeat itself panel after panel. We'll be updating a running list of "PANEL RULES!" that will help ensure that you are not the dweeb of the Panel Nerds.
Panel Nerds don't like…Cause Gauze
Gilbert Gottfried is there to talk about his life, his work, and his comedy. Just because you have something in the news you'd like to complain about, that doesn't mean you should ask Gilbert Gottfried about it. In an interview where he didn't once discuss current events, why bring up Occupied Wall Street?
Have a tip we should know? tips@mediaite.com