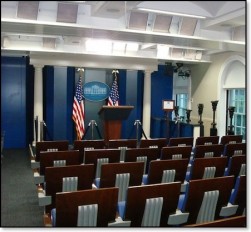 Last February HuffPo's Sam Stein made news when he became the first 'blogger' (though really he's a reporter who writes for a website) to be called on by the President of the United States during a press conference. Many people who follow these things saw it as a bit of a watershed moment wherein the Internet was officially deemed a respectable, trustworthy news source.
Cut to nine months later and it looks like the inmates may be ready to take over the asylum. Just this week the White House Correspondents' Association (WHCA), which runs the White House pool has started letting Talking Points Memo, Salon, and the Huffington Post in to share the pool duty. Pool duty, as you may or may not know, is when one reporter covers an event (say, President Obama's golf game) and the notes (and frequent funny asides) are made available to the rest of the press, which they use as the basis for their reports.
Anyway, a number of establishment people are up in arms about seeing these, in the words of Michael Calderone, "online news organizations, which may or may not be bound by the same professed standards of objectivity, begin taking on the responsibilities of long-standing print publications."
It's not that reporters are criticizing the work of either Christina Bellantoni or Sam Stein, but some have expressed concerns about pool reports coming from left- or right-leaning news organizations that will then be used by the rest of the press corps.

"This is really troubling," said New York Times reporter Peter Baker in an e-mail to POLITICO. "We're blurring the line between news and punditry even further and opening ourselves to legitimate questions among readers about where the White House press corps gets its information."
Calderone also notes that one of the reasons behind the new inclusions is that WHCA is trying to fill empty seats left open by papers who have had to cut back in recent months.
So what to do.

>>>NEXT: If Fox and MSNBC are there, why not the blogosphere?
Have a tip we should know? tips@mediaite.com