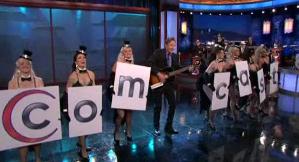 Everyone is dealing with the announcement that Comcast would be taking control of NBCU in different ways.
For Conan O'Brien on The Tonight Show, he's decided to welcome his new boss with open arms – and a Comcastic new song.
"Talk show hosts traditionally are supposed to kind of go after their boss, give them a hard time," said O'Brien at the end of his monologue last night. "That got me thinking how do you make fun of…" (tone changes) "…the nation's largest video provider, and the nation's largest residential internet service provider."
What followed was a string of compliments from O'Brien and his sidekick, Andy Richter, before O'Brien grabbed a guitar (decked out with Comcast sticker) and started in on a Comcast-related song. Sample line from Richter: "Since they're our new boss, some people might assume that we're just kissing ass-tic."
Then came the back-up singers and dancers.
In all seriousness, it will be interesting to see how comedy shows on NBC deal with the transition to Comcast – from 30 Rock, which regularly makes cracks at GE and the NBCU family, to late night comedy shows that joke about the news-of-the-day in monologues and sketches. So far the one late night show in the New York headquarters, Late Night with Jimmy Fallon, is dark this week. And in other ways, as Jeff Zucker and Comcast execs make the rounds on CNBC and NBCU's news outlets, will they show up in looser settings as well?
For now, here's the Tonight Show clip last night:


And earlier this week – more compliments from O'Brien and Richter of their soon-to-be new boss:


—–
» Follow Steve Krakauer on Twitter
Have a tip we should know? tips@mediaite.com