'Pathetic': Cenk Uygur Slams MSNBC 'Cowards' After Hayes Apologizes to O'Reilly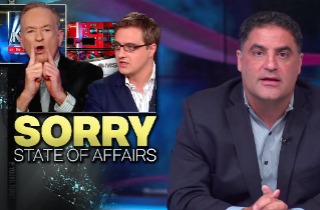 Last week, Bill O'Reilly talked about how some people view the Confederate flag as a symbol of "bravery" and valor. After a few websites picked up on it, Chris Hayes briefly mentioned O'Reilly's words on air, ascribing the "bravery" view to O'Reilly himself.
That really got O'Reilly steamed, and he ripped into Hayes and took a shot at his ratings. Hayes, in response, apologized for taking O'Reilly out of context, and last night O'Reilly accepted the apology.
End of story, right? Well, for them, yes, but The Young Turks' Cenk Uygur buried his head in his hands yesterday out of frustration with Hayes and his former network for caving so quickly.
Uygur––who used to work at MSNBC but then had a bit of a falling-out––argued that O'Reilly really does believe the Confederate flag symbolizes bravery, despite what O'Reilly has perfectly said, and used the "some people say" line as cover. He didn't blame Hayes entirely, saying it's mainly the fault of MSNBC management for being so willing to take a "pounding" from Fox.
He called MSNBC "cowards" and "pathetic" (and took a shot at their ratings), suggesting Hayes should have used the opportunity to call out O'Reilly for misleading his audience then demanding people apologize to him.
Now, it just so happened that earlier today, Hayes held a Facebook Q&A and the subject of his apology came up. This is what he had to say to someone who believed he was wrong to apologize:
I'm vaguely aware that I've gotten some criticism for this but to me it was a pretty clear call. We actually did take him out of context (mistakenly), and it's important to me to get things right. My overriding loyalty is to the truth as best as we can grab onto it, and our viewers who expect honesty and integrity from me and the show. When you get something wrong, you correct the record. That doesn't mean that I Bill O'Reilly has good racial poltics (they are terrible) or that we won't go after him again (we will, a lot) but there's no reason to pretend you didn't mess up when you did out of some loyalty to some greater cause of "fighting Fox." The truth is good enough for me.
Watch the video below, via The Young Turks:
[image via screengrab]
— —
Follow Josh Feldman on Twitter: @feldmaniac
Have a tip we should know? tips@mediaite.com
Josh Feldman - Senior Editor