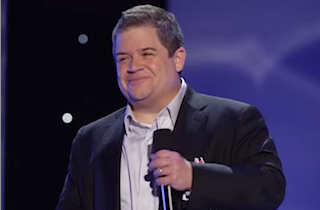 Patton Oswalt's summer of (mostly) no social media has almost come to an end. Rather than using Facebook or Twitter to let the world know how it's been going, the comedian decided to write an op-ed for Time magazine, in which he explains how weaning himself off of social media has "ironically, made me feel younger."
After years of acting as professional troll-bait, Oswalt became disenchanted with the daily grind of trying to keep up with social media, posting on Facebook in May that he would be taking a three month hiatus through Labor Day. "I want to de-atrophy the muscles I once had," he wrote.
In the new piece for Time, Oswalt jokes that in the first week alone, he "dropped 15 pounds, re-watched Krzysztof Kieslowski's The Decalogue, built a sustainable small-yield garden for my daughter, and learned knife throwing." Later, he admits that while he may not have been tweeting at his regular pace, he was still obsessively checking his @ mentions.
But once Oswalt was able to keep his phone in his pocket and look around, he realized that, contrary to popular belief, it was people his age (45) and older who were "stooped, staring statues, peeping at windows in their palms." Because the constant connection of social media was less novel to them, millennials seemed better able to engage with the world and only check their phones when they really needed to.
He writes:
"I really enjoyed these three months away. Slowly weaning myself off of social media has, ironically, made me feel younger. At least, I have the habits of a much younger person now. I used social media—at least for these past 90 days—at the frequency of a 20 year old. Occasionally, like it wasn't some exotic novelty, and didn't need to be consumed like a wine whose supply was finite."
Oswalt adds that he plans to take the summer off from social media again next year and into the future, hoping that "the next fashionable rebellion, from whatever generation rears its head after the millennials, is to become 'unlinked.'"
Read the full essay at time.com.
[Photo via screengrab]
— —
>> Follow Matt Wilstein (@TheMattWilstein) on Twitter
Have a tip we should know? tips@mediaite.com