Paul Krugman Goes After the Media for 'Engaging in Innuendo' About Hillary Clinton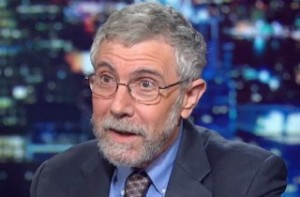 If you think the biggest complaints of media bias are only coming from the right these days, you might be surprised to learn about a growing sense of media frustration from liberals.
This frustration is borne from a belief on the left that the media is being too unfair to Clinton in the name of "both sides"-ism. And New York Times columnist Paul Krugman happens to believe this is the case.
Krugman argues in a new column that just like in 2000, the U.S. public is faced with someone who's beyond dishonest and someone who's actually talking about policy, but the latter is being referred to as dishonest because of "trivial anecdotes, none significant, some of them simply false."
Krugman thinks that while Trump doesn't exactly get a pass from the media, "he's being graded on a curve." For example, "if he seems to suggest that he wouldn't round up all 11 million undocumented immigrants right away, he's moving into the mainstream."
But it really bothers him that "anything Hillary Clinton does must be corrupt":
[A]ny operation that raises and spends billions of dollars creates the potential for conflicts of interest. You could imagine the Clintons using the foundation as a slush fund to reward their friends, or, alternatively, Mrs. Clinton using her positions in public office to reward donors. So it was right and appropriate to investigate the foundation's operations to see if there were any improper quid pro quos. As reporters like to say, the sheer size of the foundation "raises questions."

But nobody seems willing to accept the answers to those questions, which are, very clearly, "no."
So Krugman wants journalists to ask themselves "whether they are reporting facts or simply engaging in innuendo, and urge the public to read with a critical eye."
"If reports about a candidate talk about how something 'raises questions,' creates 'shadows,' or anything similar," Krugman writes, "be aware that these are all too often weasel words used to create the impression of wrongdoing out of thin air." (…where Hillary Clinton is concerned, of course.)
You can read the full column here.
[image via screengrab]
— —
Follow Josh Feldman on Twitter: @feldmaniac
Have a tip we should know? tips@mediaite.com
Josh Feldman - Senior Editor