Paul Ryan: 'Conservatives Have A Better Chance Of Triumphing' After 'Obamacare' Takes Effect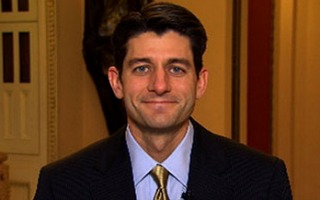 In a wide-ranging interview with the National Review, Rep. Paul Ryan (R-WI) expressed his optimism about Republicans' political position in the wake of President Barack Obama's reelection. "Conservatives have a better chance of triumphing," Ryan said, after the Patient Protection and Affordable Care Act of 2010 ("Obamacare") is fully implemented in the coming months.

RELATED: Fox & Friends Host Dings Paul Ryan For Insisting On Repeal Of 'Obamacare' In Budget: 'That's Not Practical'
"So just because the election didn't go our way, that means we're supposed to change our principles? We're supposed to just go along to get along? We reject that view," Ryan told National Review's Andrew Stiles when asked about his proposed budget which includes the GOP's insistence that the ACA be fully repealed.
"A budget is supposed to be a display of your vision," he adds. "Our vision is a world without Obamacare."
Somewhat counter-intuitively given Obama's recent and commanding reelection victory, Ryan said that the Republicans are actually "much better positioned" to advance their political agenda in the president's second term.
"I think it's different now that the rubber is hitting the road with respect to Obama's policies," Ryan says. "We ran against the Obama policies before they were implemented. Obama was able to protect them with his rhetoric, but he was never measured against his results. Now, in the second term, they're implementing these things, they're putting details in writing, regulations are coming out, and we're seeing just how different these proposals are than the rhetoric that was used to sell them."
"I see balancing the budget as a means to the end. And the end to me is a more flourishing economy, is improving the lives the people," Ryan continued. "I don't want to say we're going to enjoy going around the country saying 'I told you so,' but we're going to have to say 'I told you so, and here's a better way.'"
"I don't see this last election as the end of this story," he says. "I see it as a chapter in this story. A story for the fight over the soul of America, and I believe that the chapter we're entering is one where conservatives have a better chance of triumphing, because the president's actual proposals don't add up and people are going to see that.
Read the full interview via National Review Online
> >Follow Noah Rothman (@NoahCRothman) on Twitter
Have a tip we should know? tips@mediaite.com