Peace Corps: Women Who Need Therapy After Sexual Assault 'Not a Good Fit' for Service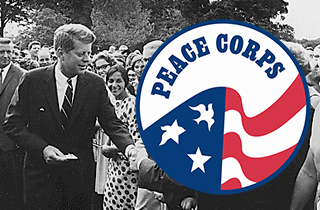 Despite allegations that one in five Peace Corps volunteers experience sexual assault during their enlistment with the program, new reports indicate the organization's leadership promotes a culture of cover-ups and victim blaming for those who report sexual violence.
Internal documents demonstrate a surprising lack of support for volunteers who find themselves victims of sexual assault while serving with the agency. Guidelines issued by Peace Corps clinical psychologist Dr. Kris Morris and obtained by The Daily Beast question whether someone requiring therapy for sexual assault is a "good fit" for service.
In a 2014 email, Morris wrote, "Demonstration of a need for ongoing therapy is an indication that she is not a good fit for Peace Corps Service," capping the acceptable amount of therapy at a "maximum of 4-6 sessions."
One medical officer allegedly said of a volunteer asking the Corps for additional counseling, "I'm sure this will make no difference in her behavior."
Danae Smith, who was volunteering in the Dominican Republic when two men attacked her with machetes, said the program sent her home after the assault. "They also told me that my attack had occurred because I had been walking in my site," Smith said. "And that as a volunteer, it was my job to have been more proactive to prevent it from happening."
In 2011, Congress passed the Kate Puzey Peace Corps Volunteer Protection Act, named for a volunteer who was murdered after reporting a fellow Peace Corps employee for assault. The act led the Peace Corps to hire Kellie Greene, the agency's first victim advocate.
In an interview, Green said that when a volunteer alleges sexual assault, the Peace Corps "staff continually say that a Volunteer 'cannot keep themselves safe,' 'has behavior issues,' 'failed to follow Peace Corps safety and security guidance,' and 'she/he is not a good Volunteer.'"
Greene, who was fired by the Peace Corps last month for allegedly creating a hostile working environment, filed for whistleblower protection against the agency, insisting they ousted her for attempting to highlight the organization's behavior towards victims of sexual assault.
"The agency needs to implement a system of accountability for staff who fail to follow the policies and procedures related to sexual assault and other crimes," Green said. "Currently, there is no system in place to address this so staff are not able to learn from mistakes nor is the agency able to track why policy and procedures are not being followed."
The Peace Corps deny removing Greene in retaliation for her speaking out against the organization.
Despite establishing an Office of Victim Advocacy in 2011, a 2014 Inspector General report on the Peace Corps indicated a pattern of sexual offenders successfully re-applying for the program. The corporate headquarters in Washington D.C. even hired one volunteer who had previously admitted to sexual misconduct in the program, CBS News reports.
Peace Corps director Carrie Hessler-Radelet said, "the person is no longer employed by Peace Corps," adding that the agency is "putting in place systems, mechanisms that will make sure that that does not happen again in the future."
"This is unacceptable to us and we are trying to change the culture," Hessler-Radelet said.
Have a tip we should know? tips@mediaite.com