Peggy Noonan to 'Dumb' 'Name-Callers' in the Tea Party: 'Stop It, You're Grown Up'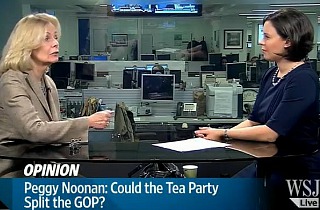 Wall Street Journal columnist Peggy Noonan has a message for the tea party: "stop it." In an interview with WSJ Live host Mary Kissel on Tuesday, Noonan took on the "name-callers" in the tea party and called on them to rethink how their strategy over the last two weeks backfired.

"They need more serious leadership," Noonan said when asked what the results of the last two weeks of confrontation in Washington have proven. "They need more strategic-minded leadership."
"They have to become more aware of the facts on the ground," she continued. Kissel clarified that Noonan was referring to conservative groups like Heritage Action and FreedomWorks which advocated for a shutdown and refused to accept a compromise solutions which would have ended the shutdown.
Noonan praised many of the populist values of the tea party which she said "reflects America." However, she advised the conservatives in the Republican Party to take stock in their defeat.
RELATED: Van Jones Celebrates Ted Cruz's 'Humiliating Defeat' on CNN
"Consider what just happened in the past few weeks," she said, speaking directly to the tea party. "Consider that you had a flailing, in trouble foe – political foe – in President [Barack] Obama, and you just, more or less, saved him from his troubles."
She added that the tea party should "consider whether they want to be the name-callers of the drama," noting that the conservative grassroots has a penchant for calling Republicans who disagree with their approaches "RINOs" and "the surrender caucus."
"Hecklers," Kissel added.
"Dumb stuff," Noonan agreed. "Stop it. You're grown up. You're big people in a big drama that may be a big evolution. Sit down. Get along. Work it out."
Watch the segment below via WSJ Live:
[Photo via screen grab ]
— —
> >Follow Noah Rothman (@NoahCRothman) on Twitter
Have a tip we should know? tips@mediaite.com