Phil Robertson to GOP Conference: The Party Must Move in a 'Godly' Direction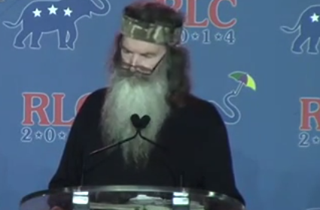 "I guess the GOP may be more desperate than I thought to call somebody like me," quipped Phil Robertson, the beardedly controversial star of Duck Dynasty, during his speech at the annual Republican Leadership Conference yesterday in New Orleans.
Speaking alongside political figures like Bobby Jindal, Reince Priebus, and Sarah Palin, Robertson called on the GOP to move the party in a "Godly" direction, in a speech the Washington Post described as "meandering."
"GOP, you can't be right for America if you're wrong with God," Robertson said. "You want to turn the Republican Party around? Get Godly."
He also quoted George Washington and John Adams, mostly the religious parts: "Separation of church and state? I'm telling you right here what the founding fathers said. Does it sound to you like separating God almighty from the United States of America?"
There's also the railing against evolution (which was, apparently, proved wrong by the existence of DNA), the lack of the Bible in education ("Education is useless without the bible"), and also, true to form, racism. "There is one race on this planet it's called the human race. Therefore you have no right to color-code anyone."
But it all came back to God in politics, which needed to be a priority when the GOP chose their presidential candidate: "You can't be right for America if you're wrong with God," he said. It received a standing ovation.
More of his speech can be found either at the Times-Picayune, or, if you're patient, the entire video below:
Robertson also spoke with Hannity last night about what his speech would touch upon:
[h/t The Washington Post]
[Image via screenshot]
—
>> Follow Tina Nguyen (@Tina_Nguyen) on Twitter
Have a tip we should know? tips@mediaite.com