Photographers' Groups Slam Pelosi's 'Doctored' Photo: Altered Photographs Are A 'Dangerous Trend'
Photographers' Groups Slam Nancy Pelosi's 'Doctored' Photo...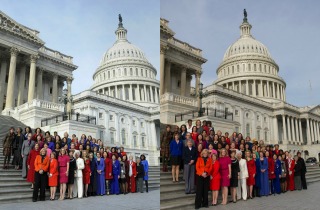 House Minority Leader Nancy Pelosi's office released a photo yesterday of all the Democratic woman of Congress standing on the steps of the Capitol. The photo was beautiful. It was historic. Unfortunately, it was also not entirely accurate: four women were missing from the picture and were added in by Photoshop later. Now the Congresswoman is receiving some negative press for releasing the "doctored" image.
The four Congressmen missing from the shot arrived late and couldn't stand with the group, so they were later Photoshopped in to make it look as though the entire Democratic female caucus was standing together. The National Press Photographers Association (NPPA) and the White House News Photographers Association (WHNPA) released a statement Saturday protesting the manipulation of the "official photograph."
Pelosi defended the photo Friday, telling a news conference, "It was an accurate historical record of who the Democratic women of Congress are." She described the "freezing cold" conditions of the shoot and explained that members who had been on time couldn't wait any further. The photographers' groups are taking issue with her comment, saying they make clear the "dangers" of doctoring photos.
The groups say "the issue of the use of government hand out photographs" is something that press have been concerned with "for sometime." Altered photographs are not a "true representation of the moment," they say, and are a "dangerous trend." According to the WHNPA, elected officials are using these techniques more and more to "circumvent the watchful eye of the independent news media":
"Rather than being a true and 'accurate historical record' as the House Minority Leader stated in her defense of the use of the photograph, the hand-out represents an example of the dangers in using a manipulated official photograph, thus undermining the public's trust in visual images.
NPPA President Sean D. Elliot says his group "deplores any practice that would continue to degrade the public perception's of the credibility of photographs."
—
>> Follow Anjali Sareen (@AnjaliSareen) On twitter
Have a tip we should know? tips@mediaite.com