Pictures Show US Soldiers Posing With Dead Afghan Civilians They're Charged With Murdering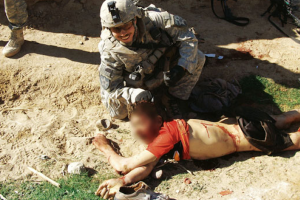 A few years ago, photographs of American soldiers cheerfully posing with blindfolded and naked inmates at Abu Ghraib became a symbol of everything critics found wrong with that prison and the entire War on Terror. A picture's worth a thousand words after all. Now, a new yet depressingly similar story has surfaced. In Afghanistan, a group of 12 American soldiers are facing various charges dealing with brutally murdering Afghan civilians, taking drugs, and "severely beating a comrade who blew the whistle." The soldiers are also charged with taking photographs of the dead civilians. Some of these pictures have been leaked.
The pictures were published by German paper Der Spiegel which apparently obtained 4,000 photos and videos of the group (referred to in many news articles as a "kill squad") that is facing allegations of everything from dismembering corpses to keeping human bones as "trophies." In the pictures released, two of the men, Cpl. Jeremy Morlock and Pvt. 1st Class Andrew Holmes posing with the body of a man identified as Gul Mudin, an unarmed civilian they were accused of killing on January 15th, 2010. The pictures are sure to cause an uproar around the world, something the US military has feared.
From The Guardian:
"The US military has strived to keep the pictures out of the public domain fearing it could inflame feelings at a time when anti-Americanism in Afghanistan is already running high.

In a statement, the army said it apologised for the distress caused by photographs 'depicting actions repugnant to us as human beings and contrary to the standards and values of the United States'."
Like the Abu Ghraib photos before them, these pictures and the horrifying stories surrounding the 12 men who are currently on trial in Seattle will assuredly be used as a symbol in many arguments about anything and everything having to do with America and its foreign policy (For example, Morlock is from Wasilla, Alaska and Wonkette called him "another proud product" of the town in their post referring, of course, to Sarah Palin. While this was done in typically ironic style, it seems in poor taste to write up a post about murdered civilians in such a way as to knock an unrelated public figure). One argument is clear though and that's the fact that these pictures show terrible proof of the dehumanizing affects of life in a warzone.
(h/t Al Jazeera via Wonkette)
Have a tip we should know? tips@mediaite.com